Intranet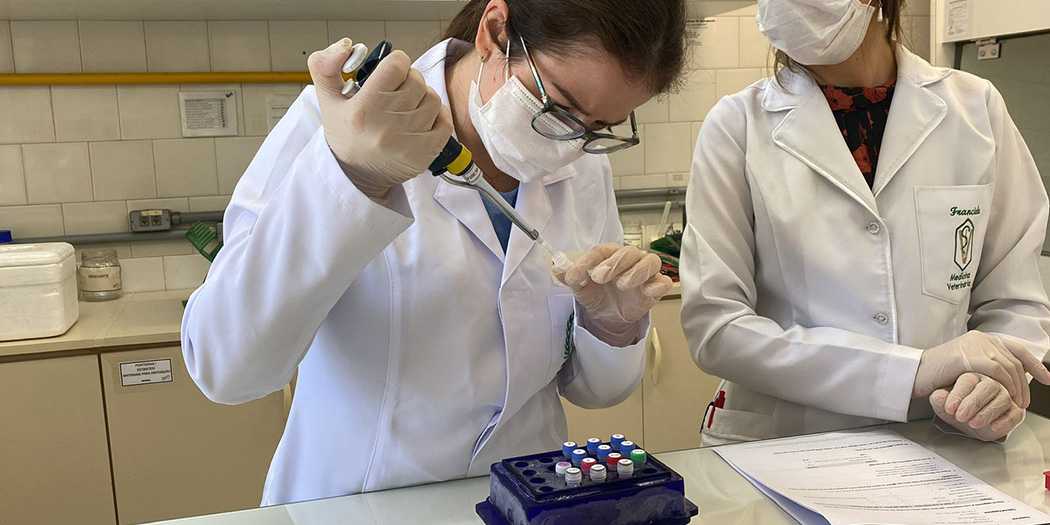 OVC Professor Travels To Brazil With New Technology To Promote Veterinary Microbiology
May 04, 2022
A portable DNA sequencing kit, smaller than a phone, helped bring next generation technologies to a university in Brazil to support research and learning in the field of veterinary microbiology. 
The innovative technology was part of a two-week practical course for Doctor of Veterinary Medicine (DVM), undergraduate and graduate students in Brazil, taught by Dr. Grazieli Maboni, Assistant Professor at the University of Guelph's Ontario Veterinary College (OVC). 
The course, called Methods of Sequencing and Analysis, teaches students how to use next-generation DNA sequencing technologies that can generate results in real-time. The introduction of this technology allows students to learn more about the field of microbiology and allows researchers to generate more robust research results. 
"The veterinary field needs more veterinarians specialized in microbiology or infectious diseases," says Maboni, who is with OVC's Department of Pathobiology. "These initiatives will introduce students to the field and encourage them to pursue microbiology or infectious diseases in Brazil and globally."  
New generation DNA sequencing tools allow researchers to quickly and accurately identify microorganisms present in a sample under analysis. Tools for DNA sequencing are necessary for the study of veterinary microbiology which focuses on identifying and treating infectious diseases caused by microorganisms and antimicrobial resistance in animals. 
Using funding provided through a faculty mobility program called Canadian Global Affairs and the United Kingdom Microbiology Society's International Development Fund, Maboni travelled to the Federal University of Rio Grande do Sul (UFRGS, Laboratory of Veterinary Bacteriology) with the Oxford Nanopore sequencing device stored in her carry-on.  
Maboni collaborated with Professor Franciele Siqueira at UFRGS to teach 21 students registered in class and approximately 50 students joining online. The class introduced students to the new DNA sequencing technology and highlighted potential research projects that could be completed with it. In-class students experienced a hands-on approach, adding samples of bacteria into the sequencer and analyzing and interpreting their results in real-time. Those connecting to the lectures remotely had the opportunity to watch the demonstrations at home and participate in discussions.  
"There was a lot of excitement both from faculty and the students who participated in the lectures," says Maboni. "Students even came back from their summer break to learn about sequencing technologies!"  
Maboni said that researchers at UFRGS generate excellent research even with limited resources. In this environment, students and faculty often find creative ways to conserve supplies for microbiology studies. During a few class sessions, students and faculty brainstormed strategies to save supplies without sacrificing the quality of the experiments. Maboni says that this highlighted what she already knew; that investing the funds into the community at UFRGS would be impactful because of their no-waste and resourceful mindset. This training will provide students with more opportunities to learn about upcoming technologies within microbiology, providing them with invaluable experience. 
Two postgraduate students at UFRGS, Silvia De Carli and Cassiane Elisabete Lopes noted that "the course provided a unique real-world experience within veterinary microbiology and it will open doors for other projects and professional opportunities." They added, "The collaboration between universities generates a desire for Brazilian students to pursue related opportunities in Brazil and other countries like Canada." 
← Read more news