Intranet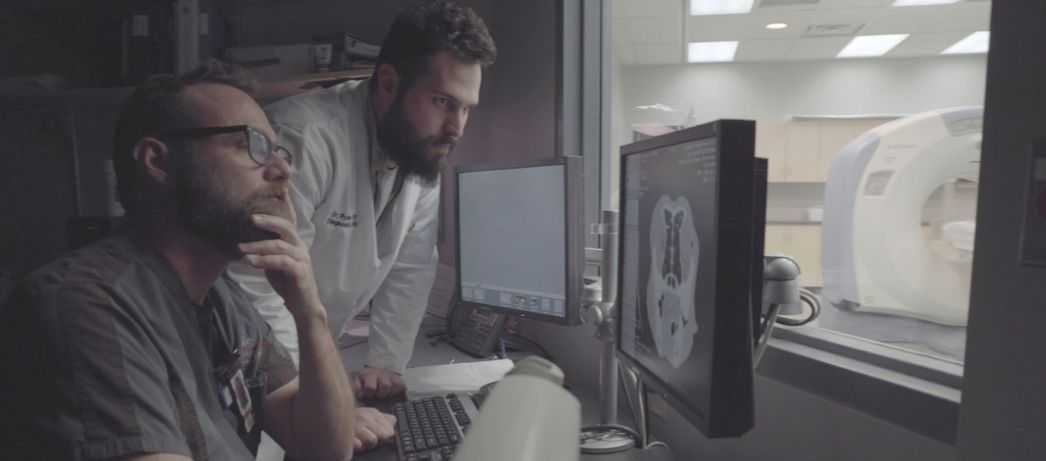 What Is The Future Of Artificial Intelligence In Veterinary Medicine?
January 25, 2023
A world where artificial intelligence helps veterinarians make clinical diagnoses and decisions may be coming sooner than you think.  
New research at the University of Guelph's Ontario Veterinary College (OVC) aims to better understand how artificial intelligence could be safely implemented in the field of veterinary diagnostic imaging. 
Artificial intelligence (AI) refers to computer programs able to do tasks which usually require human intelligence. AI is already a regular tool in human medicine and is making its way into veterinary radiography. Radiography uses x-rays to visualize animal tissues, bones, organs and vessels. 
Dr. Ryan Appleby, assistant professor in OVC's Department of Clinical Studies, believes there is an opportunity to use artificial intelligence for veterinary radiographs. Appleby, OVC DVM 2014, developed an interest in technology and diagnostic imaging early in his career. Since joining OVC, he has partnered with U of G's School of Computer Science to create a research laboratory centered on veterinary AI.  
Appleby sees many opportunities to use artificial intelligence in veterinary radiology, from helping the radiologist or technician position patients for more accurate radiographs, to acting as a second eye for practitioners by identifying abnormalities in radiographs through computer-aided diagnosis.  
"The benefit of using AI in this field is the potential to improve quality of care and extend the reach of high-quality diagnostics," says Appleby. "With AI-based practices, we will be able to better diagnose, predict and treat a variety of illnesses in animals." 
Appleby believes that the primary technology is already in place, but a combination of research and multi-institutional collaboration is needed to better develop our understanding and trust for AI's use in practice.  
"Large datasets, from diverse sources can be used to train AI models which then can be trusted in a variety of veterinary environments," Appleby says. "We need strong peer-reviewed research into the accuracy of the models and also to learn whether they provide a benefit over the current standard of practice." 
With further research, Appleby believes that artificial intelligence will soon become a regular, trusted tool for practitioners.  
"I think we will see artificial intelligence effectively implemented in Canadian veterinary practices within the next five to 10 years," Appleby predicts. "I expect that it will take a few years for this to happen as it will take time to ethically and methodically consider the ways to best deploy AI in practice, and for the research to catch up with the technology." 
Appleby is leading several research projects based on artificial intelligence and diagnostic imaging. These projects focus on improving how x-rays are acquired and labelled, and on using radiomics-based research, a data-driven analysis of medical images, for a variety of companion animal cancers. 
Appleby recently co-authored an  American Veterinary Medical Association  article. 
You can also learn more about his work on the Vet Sessions podcast, as well as AVMA's Veterinary Vertex podcast. Read more about artificial intelligence for veterinary medicine in this special issue of the Veterinary Radiology and Ultrasound journal, guest edited by Appleby. 
Funding for this research has been provided by the Natural Sciences and Engineering Research Council of Canada Alliance and the American Kennel Club.  
← Read more news