Intranet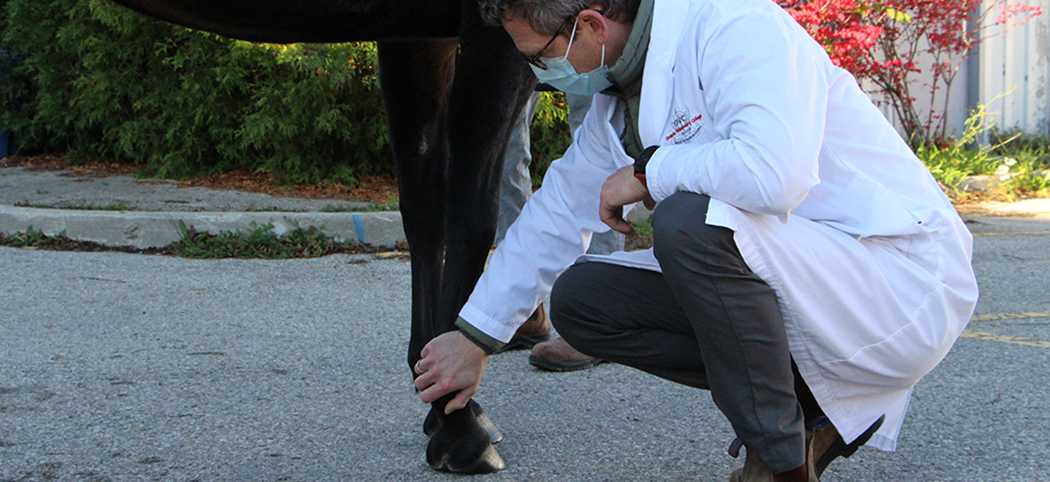 Easing The Pain - Stem Cell Therapy Shows Promise For Equine And Human Joint Injuries
January 04, 2023
Joint pain, once considered an ailment of aging, is now recognized as one of the most common orthopedic conditions in the human and equine world.  
Researchers at the Ontario Veterinary College (OVC), University of Guelph are studying joint health in horses and the regenerative possibilities of stem cell therapy to help unlock answers for our equine companions with the aim to ultimately translate those solutions to human health.  
OVC professors Drs. Thomas Koch, OVC PhD 2009, and Judith Koenig, OVC DVSc 2002, are bringing together clinical and research expertise to develop better diagnostic procedures and treatment possibilities for joint health.  
Osteoarthritis is degeneration of joint cartilage and the underlying bone. It is the most common type of arthritis, estimated to impact four million Canadians or one in seven adults, according to the Canadian Arthritis Society.  
While the condition was originally associated with the wear and tear on aging joints, it is now understood to be a result of the body's failed attempt to repair damaged joint tissues when otherwise healthy tissue has been impacted by injury, extended heavy workloads or obesity.  
A quality-of-life disease in the human world, its impact on equine athletes is no less devastating.  
"A horse with osteoarthritis is not unlike a runner with the same condition," says Koenig. "Horses are athletes, and as a translational model, they are very similar to humans, with the same type of forces acting on their joint cartilage when they exercise."  
A large animal clinician in OVC's Department of Clinical Studies, Koenig has a passion for horses and for sports medicine, with a particular interest in lameness research and treatment.  
"Current treatments basically treat the symptoms of osteoarthritis," notes Koenig. "Our aim is to find solutions that may modify or even improve the disease." 
Koch, now a professor in OVC's Department of Biomedical Sciences, isolated mesenchymal stem cells from the umbilical cord blood of newborn foals. He has since focused his work on determining how these cells can be used to treat joint pain and damaged joint cartilage in horses and dogs with spontaneous disease.  
"Stem cells have shown promise in both managing joint pain as well as delaying and slowing down joint cartilage damage," says Koch, who is also founder and chief operating officer of eQcell, a veterinary regenerative medicine company.  
A new clinical trial at OVC, led by Koenig will explore the efficacy of umbilical cord blood stem cells to treat mild joint pain. The study is currently enrolling horses who have been diagnosed with synovitis or osteoarthritis of the carpus (knee) or fetlock (ankle) and will assess whether the treatment reduces inflammation in the injured area.  
Synovitis is inflammation of the connective tissue that lines the inside of the joint, causing increased fluid production and inflammatory enzymes in the joint. The painful, debilitating condition can require long recovery times and often recurs due to incomplete healing. Left untreated or compounded by continuing exercise, it can damage the cartilage and bone, leading to osteoarthritis.  
The journey to this point has involved a large team both in the laboratory and in the clinic. Koenig and Koch have worked closely with OVC research colleagues and associates, as well as graduate and doctoral students who were attracted to the mentoring and training opportunities in this innovative translational research space. 
"The similarities in post-traumatic osteoarthritis between horses and humans hold the promise that any successful therapy in one species will also be effective in the other," says Koch. "Our hope is that our equine therapy can inform and inspire similar therapies for humans with similar conditions." 
Koch discussed osteoarthritis in horses in a recent podcast:  Understanding Osteoarthritis in Horses and Future Treatments| Episode 21 — Sport Horse Series 
← Read more news