Intranet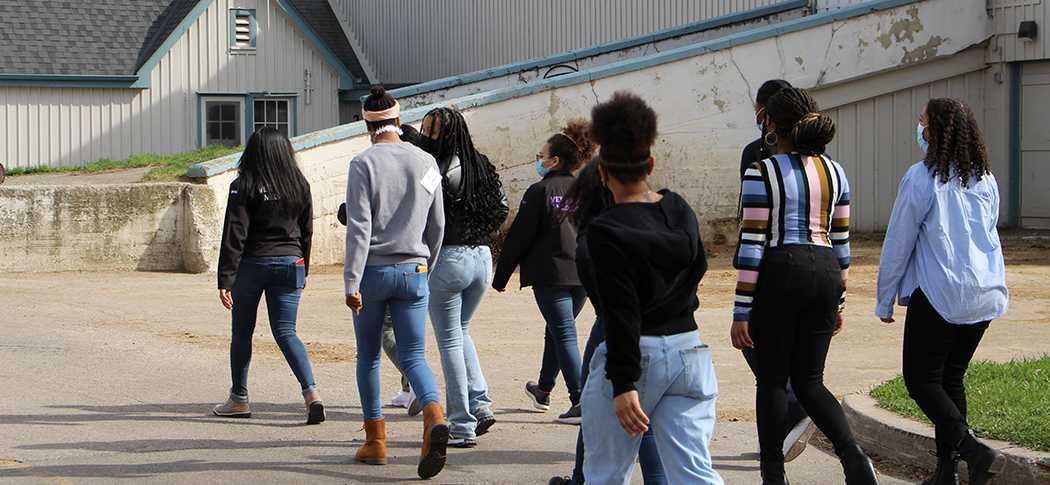 Discover Vet School And VIBE Collaborate To Promote Diversity In Veterinary Medicine
June 28, 2022
Deciding to go into a particular career field can be challenging, especially if you see few people who look like you. A first-time collaboration in spring 2022 between the Ontario Veterinary College (OVC) and Veterinary Professionals Instilling Black Excellence (VIBE) aimed to support and encourage Black students to learn more about veterinary medicine education and see themselves in the field. 
Delivered by OVC student veterinarians and faculty, Discover Vet School (DVS) shows students what being a student veterinarian is about and introduces them to various specializations and paths to pursue through the doctor of veterinary medicine (DVM) degree.  
In an inaugural collaboration with the Canadian VIBE – a non-profit aimed at increasing the visibility and numbers of Black people in veterinary medicine, the OVC Dean's Office provided scholarships to sponsor seven Black students to participate in the 12th annual DVS program. 
"The partnership with VIBE is one of the many enhancements to our programs that will, over time, bring more diversity to our OVC community and the veterinary profession. VIBE approached me for sponsorship, I admire and thank them for their strong leadership in Indigenization, equity, diversity, and inclusion," says OVC Dean Dr. Jeffrey Wichtel. 
VIBE was founded by Kayla Charles and Keisha Harris, student veterinarians, and Dr. Melanie Moore a 2021 DVM graduate, with a goal to identify obstacles Black veterinary students face in completing their program and to retain Black students. The organization aims to encourage Black youth to pursue and complete veterinary studies by increasing the visibility of Black veterinary professionals and by providing grants and scholarships to Black veterinary students.  
"This collaboration has been a positive step towards increasing inclusivity in the industry, which is one of the cornerstones of VIBE's mission," says Harris.  
The VIBE founders expressed that "VIBE is extremely grateful for OVC's generous sponsorship of seven Black students to participate in the Discover Vet School program. Not only did these students get exposed to different aspects of the veterinary field with wet labs and lectures from professors, but they also had the additional opportunity to tour the OVC campus with current student veterinarians." 
Over the three-day DVS program, students participated in lectures and labs delivered virtually by OVC faculty and student veterinarians that covered topics ranging from communication in clinical settings to parasitology to physicals and anatomy. The program is open to students of all ages whether they are a high school student or an undergraduate who is considering veterinary medicine as a future career. 
"It was interesting to see the wide variety of courses taught at OVC," says Kaylah Mitchell, a second year B.Sc. major in zoology at the University of Guelph. "The lectures showed me more avenues in the field that I would consider working in, like pathology, which I had previously not considered pursuing." 
DVS introduces students to new career pathways and strives to allow students to see themselves in the career, says Dr. Joanne Hewson, OVC's Associate Dean, Students and Academic. 
Gerri Summers, a second-year environmental science student at Fanshaw College in London, Ont., experienced just that. Summers says that she participated in DVS because she wanted to know whether vet school was for her. "The lectures and labs helped clarify the decision to work towards veterinary medicine and the presenters, current students and faculty made the days enjoyable," says Summers. 
Adds Selam Ogbaslase, a recent B.Sc. graduate in animal biology from U of G, "Programs like DVS give you a holistic understanding of the field and leave you walking away with so much more than one could have expected. If you're curious about vet school, it is a terrific opportunity to have a glimpse of what you will be committed to for the next four years." 
← Read more news