Intranet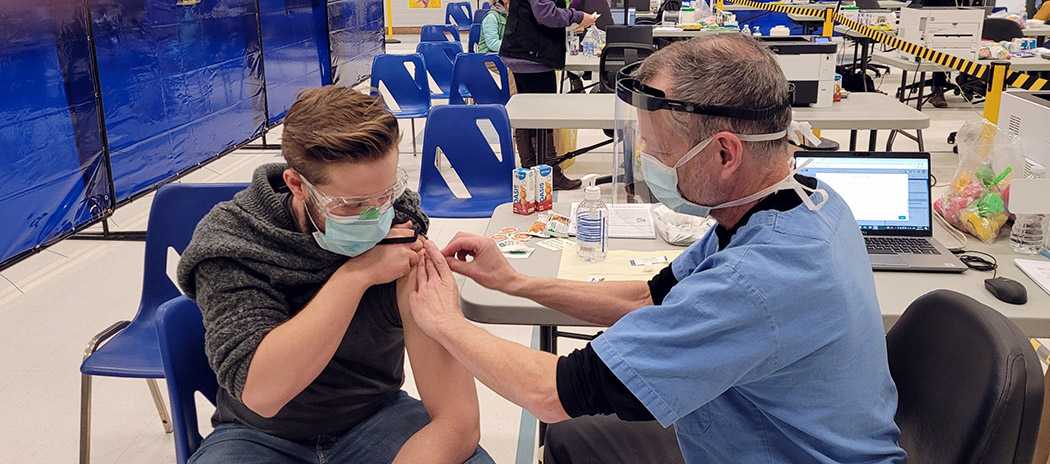 OVC Veterinarians And Students Help Vaccinate Guelph Community Against COVID-19
March 24, 2022
In December 2021, Ontario was nearly two years into the fight against COVID-19 and was facing new variants of the virus as the holiday period approached. As case counts continued to rise, public demand for vaccines peaked in Guelph.  
When a legislative change came into effect allowing Doctors of Veterinary Medicine (DVMs) to administer COVID-19 vaccines under the supervision of regulated health professionals, Wellington Dufferin Guelph (WDG) Public Health called upon the Ontario Veterinary College (OVC). A team of nine OVC faculty and student veterinarians volunteered to vaccinate their community and support their colleagues in human healthcare. 
Dr. Brad Hanna, a veterinarian and Associate Professor in OVC's Department of Biomedical Sciences, was one of the nine individuals who participated. Hanna shares that, "after almost two years of living through this pandemic, it was a relief to have an opportunity to help in an active manner." 
The WDG Public Health Unit administered vaccines to almost 30,000 individuals per week at its peak, which was accomplished through day-long mass vaccination clinics that were open six days out of the week across the region.  
"Even with help from paramedics, pharmacists, physicians, and others, sometimes there were not enough vaccinators to fully staff every clinic. The immediate benefit of our team's involvement was that we added to the pool of COVID-19 vaccinators – our numbers were small, so the impact we had was not huge, but we definitely made a difference," says Hanna. 
A typical day for members of the OVC vaccinator team consisted of "meeting to review the most recent recommendations from WDG Public Health, then moving on to vaccinate folks all day, with some short breaks for lunch," shares Mike Scolaro, a member of OVC's volunteer team and student veterinarian, in photo waiting at his station to vaccinate another individual. "I vaccinated some individuals in elementary school, all the way to seniors! I felt like I was making an impact in the community – like I could finally do something active in the fight against COVID-19 instead of sitting at home and waiting it out." 
Emily Merry, another member of OVC's volunteer team and student veterinarian adds, "Working with young children really had an impact on how I viewed the pandemic, as well as the role I got to play in the fight against COVID-19." 
Hanna mentions that many of the individuals he vaccinated were thankful for their vaccines and expressed that they were grateful to live in a place where people are willing to make small sacrifices for the benefit of others.  
"I will always remember the positive reactions I received from those who asked about my credentials. They were all surprised but pleased to see that veterinarians were helping in this manner." Hanna says. "Quite a few broke into a big smile, saying how fun it was going to be to tell their friends 'I got vaccinated by a vet!'" 
Dr. Shane Bateman, another member of OVC's volunteer team and Associate Professor in OVC's Department of Clinical Studies, shares that his experiences were "professional, supportive and friendly. It was amazing to work collaboratively, as veterinarians, with so many human health professionals."  
"Although," Bateman jokingly adds, "I think I still may be more comfortable managing a fractious and fearful cat than I am fearful and fractious children…so I am not going to give up my day job just yet!"  
Hanna agrees that the greatest challenge was young children. "We tried to get them to look away, but one young boy started to become panicky and insisted on watching the injection. His father was sitting with us, holding the bag of small toys that kids get to choose from when they are done - but that wasn't working. So, I said, 'Dad, maybe while we're doing this, you could choose one of those toys for your son.' This created a new, more urgent crisis for the boy, who no longer cared about anything other than ensuring his dad picked the 'correct' toy, and the vaccination went unnoticed." 
Reflecting on the success of this initiative, Hanna anticipates that veterinarians' involvement in public health won't stop here. "WDG was the only public health unit in the province that employed veterinarians to perform any clinical procedure on humans during the pandemic, which I understand is a first in Ontario history," he says. "I think the setting of this precedent is the main long-term benefit of our collaboration with public health, and that veterinarians everywhere will soon be viewed as one of the standard resources for responding to human health emergencies in the future." 
Scolaro adds, "I think that the value of allied health professionals has been noted by the public in these settings. I feel that it's a responsibility for us as veterinarians to take care of people as well as the animals we care for, in whatever capacity we are capable of. I would be happy to answer a similar call in the future." 
The OVC community is beyond grateful for the contributions by the individuals who answered the call and volunteered in the fight against COVID-19. Thank you to all those who volunteered and participated in Guelph's vaccination efforts - your contributions do not go unnoticed, and you have made all of us at OVC proud. 
← Read more news