Intranet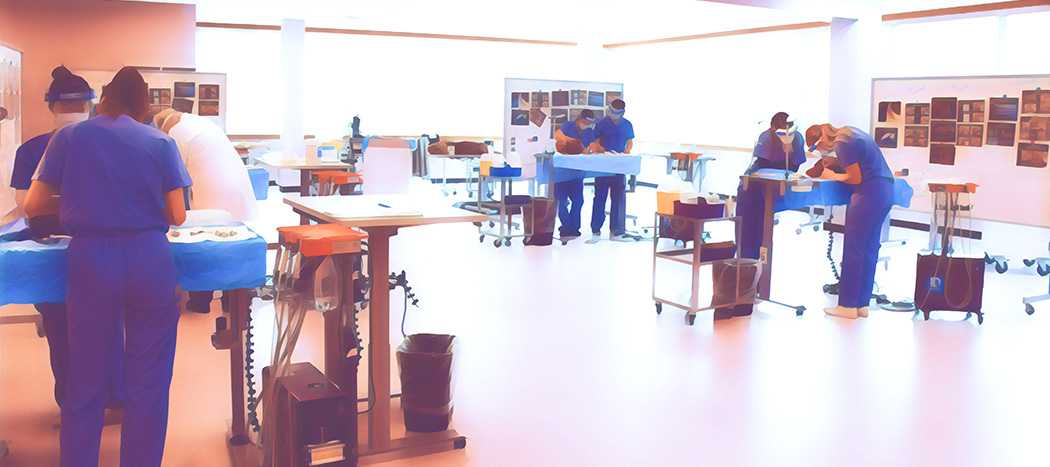 Deliberate Practice And A Stepwise Approach
February 14, 2022
A new state-of-the art facility, which opened to students in fall 2020, will further enhance the approach to hands-on, experiential learning and commitment to innovative training programs at the University of Guelph's Ontario Veterinary College (OVC).
The new Enhanced Clinical Skills Addition provides students with access to a dedicated clinical skills space, new communications teaching labs, and flexible teaching space for adaptive approaches to learning.
The clinical skills space will also provide students with the opportunity to access a library of clinical models to improve their capability outside of class hours, if they wish, further enhancing OVC's student-centered approach. Watch this space for more highlights on clinical skills learning at OVC.
Deliberate practice and self-reflection are important focus areas in learning vital technical skills. So too, is a stepwise approach.
In addition to fundamental courses in principles of disease and clinical medicine during their first three years of study, DVM students at the University of Guelph's Ontario Veterinary College (OVC) focus on developing the technical and clinical skills they need to accompany this knowledge.
In OVC's clinical skills labs, complex technical or psychomotor skills are broken down into simpler tasks so students can gain competency before stepping up to the next level.
Over the past several years, Clinical Studies professor Dr. Brigitte Brisson has transitioned the classroom-based principles of surgery curriculum into a hands-on skills lab. Beginning in their first year, students are introduced to basic surgical skills such as instrument handling and suture patterns. Second-year students learn about surgical asepsis including patient and surgeon preparation, gowning and draping skills through a variety of lab-based exercises. They also learn and practice more advanced skills such as bandaging, principles of oncologic surgery, dentistry and spay and neuter procedures.
Students progressively build their technical skills, beginning with low-fidelity foam and silicone models which achieve the objective of learning suturing skills. More complex high-fidelity models are used to teach and refine skills such as orotracheal intubation for anesthesia.
With models, students can practice a procedure or process multiple times until they are comfortable, increasing their competence and confidence.
Encouraging repeated deliberate practice with targeted feedback and reflective learning encourages students to learn to self-assess their skills, explains Dr. Carolyn Kerr, Clinical Studies professor and anesthesiologist.
"We want the clinical skills lab to be a welcoming place where it's perfectly okay to make mistakes," says Dr. Andria Joy, coordinator of clinical skills training in the Department of Clinical Studies. "We stress the difference between practice and deliberate practice. Practice is repeating something again and again. Deliberate practice is really evaluating what you just did, determining what's good about it, what did not work well, and what you can do to improve. That's the whole philosophy of experiential learning."
Developing the ability to self-assess and become self-directed learners is a crucial skill for DVMs, notes Kerr.
Video capture also will be available in the new Enhanced Clinical Skills Addition and will further expand these opportunities. "If you are a golf pro or a hockey player, you analyze your performance," adds Kerr. "The same approach benefits veterinarians and student veterinarians."
Both employers and trainees are interested in Day 1 'job ready skills' in anesthesia, diagnostic imaging, medicine and surgery.
Adds Kerr, "The breadth of skills provided by veterinarians keeps expanding. As educators, we need to continue to evolve and expand our skills training over time to continue to improve our graduates and ultimately patient outcomes."
Originally published in the Fall 2021 issue of The Crest, the research, teaching and health care magazine of the Ontario Veterinary College.
← Read more news