Intranet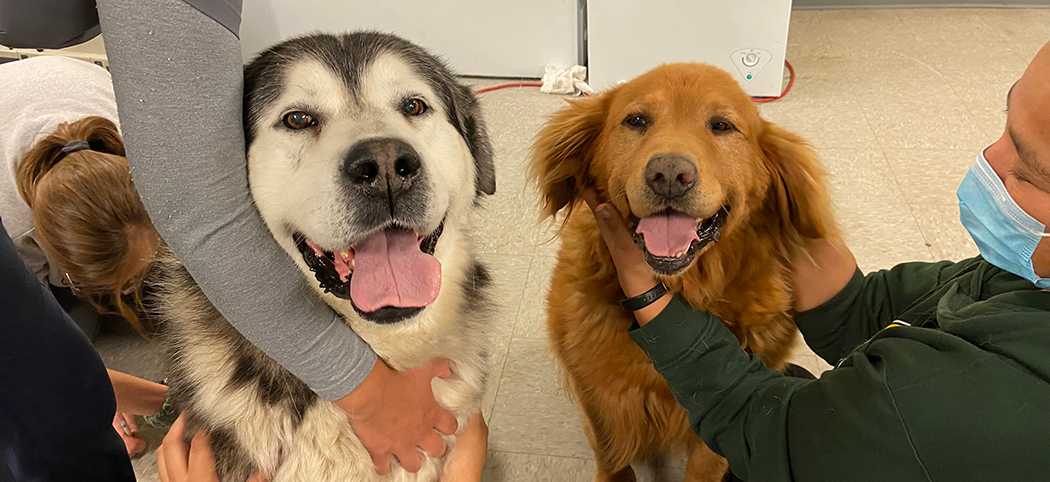 OVC faculty and students partner with Aroland First Nation for community-based veterinary clinic with $95k grant from PetSmart Charities of Canada™
February 01, 2022
Veterinary services are necessary to keep our pets healthy, but companion animals living in remote communities often have limited access to veterinary care. If medical services are needed, the closest clinic may be hours away.
Faculty, staff, and student veterinarians at the University of Guelph's Ontario Veterinary College (OVC) want to change this. In late-October 2021, Drs. Katie Clow, Shane Bateman, Gordon Kirby, Registered Veterinary Technician Meghan Longley, and a team of student veterinarians travelled to the remote northern community of Aroland First Nation for a weekend-long community-based clinic. PetSmart Charities of Canada provided a grant of $95k to support this partnership with a goal to help improve and prolong animal health in the community. This grant includes funding for two years' worth of activities with the Aroland First Nation, including telehealth support for follow-up care, youth education, and at least two week-long return visits to the community in 2022 for preventative care, spays and neuters. Chief and Council of Aroland First Nation have also committed significant financial and in-kind support. For the first visit, the grant helped offset the cost of medical care for community members and provided space for the clinic and food for the OVC team.
This project is one of many community-based experiential learning opportunities run as part of the Kim and Stu Lang Community Healthcare Partnership Program (CHPP), which aims to bring essential veterinary services to underserved populations and provide student veterinarians with invaluable hands-on training and eye-opening insights into the role of social accountability in veterinary medicine.
"Aroland First Nation has been a great community partner," says Clow. "Their community champions are passionate about improving access to care for the community."
The veterinary clinic in Aroland First Nation was community-driven and aligned with local pet owners' specific needs and values. Clients were particularly interested in preventative treatment to keep their pets healthy; on-site care at the clinic included standard clinical services like physical exams, the administration of vaccines, nail trims and deworming medicines.
Aroland First Nation is a small community of approximately 400 people. Almost 60 cats and dogs received treatment at the clinic over the course of the weekend. Notably, obesity – which is a common concern for companion animals – is less common in Aroland First Nation compared to southern Ontario. Clow says that lower levels of obesity are likely related to lifestyle factors; dogs in Aroland First Nation spend a significant amount of time outside and typically get a lot of exercise.
"The people coming to the clinic were willing to do so much for their pets," says Lana Turcic-Brandau, a Phase 3 student veterinarian. "The nearest vet clinic is four hours away. The lengths people go to receive regular veterinary services shows their care and devotion to their animals."
"It can be stressful for a family to have a pet who is sick and not know where to turn because access to care is so limited," says Clow. "I spoke with one family who was very concerned about their dog, and they were grateful for the option to seek care locally at clinic in Aroland."
Accessible veterinary care is important for animal and human health. Community-based partnerships like the one between OVC and the Aroland First Nation community allow pet owners to engage in discussions with and ask questions of veterinary professionals, and to develop care plans to promote health and wellbeing for their pets.
"We believe all pet parents want to provide the very best care for their pets, which can sometimes be difficult. That's why we're focused on helping improve access to veterinary care in communities that need it most," says Dani LaGiglia, senior regional relationship manager at PetSmart Charities of Canada. "At the same time, we know that students pursue a career in veterinary medicine because they want to help all pets in need. Grants like this one enable us to bring those two principles together by funding community veterinary clinics that will help pets and pet parents to live their healthiest, happiest lives together."
In 2019, before setting up in Aroland First Nation, PetSmart Charites of Canada provided a $34,450 grant to assess the feasibility of offering a long-term clinic rotation. During one visit, OVC faculty and students were invited to join the Grey Bruce Aboriginal Qimmiq Team of veterinarians, who had a scheduled pro bono clinic in the Naotkamegwanning First Nation. This trip was transformative for the students and showed community interest in these services. With the success of this feasibility study, PetSmart Charities of Canada awarded the recent $95,000 grant to support this and future trips to the Aroland First Nation.
"This partnership celebrates the human-animal bond  and reminds me of why I chose to pursue veterinary medicine," says Emma Stacey, Phase 4 student veterinarian. "It provides a different perspective than the classroom and connects us with people that have diverse lived experiences."
Experiential learning opportunities in unique clinical settings expose students to a diversity of pathways available to them when they embark on their veterinary careers. "Teaching students about barriers to care can help the veterinary industry provide more options for underserviced populations of veterinary medicine now and in the future," says Clow.
Student veterinarians helped build relationships with the community by connecting with clients and building rapport and trust. Return visits to the community will build on the established relationships in the hopes of fostering a long-term partnership between OVC and the Aroland First Nation.
"I went to Aroland First Nation to gain practical skills in the field. I left inspired by the clients to incorporate community-based medicine into my future practice" says Anjali Narasimhan, Phase 3 student veterinarian.
The benefits that programs like those organized by the CHPP have on animal health and communities in need are substantial and support the One Health philosophy that is foundational to the Ontario Veterinary College's mission to improve the health and well-being of animals, people and the environment.
About the Kim and Stu Lang Community Healthcare Partnership Program
The Ontario Veterinary College's (OVC) Kim and Stu Lang Community Healthcare Partnership Program (CHPP), at the University of Guelph, equips student veterinarians with the necessary skills to address the systemic challenges of inadequate access to care upon graduation.  Students participate in unique opportunities where veterinary care is provided in partnership with Indigenous communities (First Nations, Inuit, Metis - on and off reserve), people experiencing housing insecurity or other disadvantaged communities. The OVC envisions a future where vulnerable humans and animals in Canada enjoy better health, stronger social supports, and integration into their communities. To learn more visit chpp.uoguelph.ca
About PetSmart Charities of Canada™ 

PetSmart Charities of Canada is committed to making the world a better place for pets and all who love them. Through its in-store adoption program in all PetSmart® stores across the country, PetSmart Charities of Canada helps thousands of pets connect with loving families each year. PetSmart Charities of Canada also provides grant funding to support organizations that advocate and care for the well-being of all pets and their families. Our grants and efforts connect pets with loving homes through adoption, improve access to affordable veterinary care and support families in times of crisis with access to food, shelter, and emergency relief. Each year, thousands of generous supporters help pets in need by donating to PetSmart Charities of Canada directly at PetSmartCharities.ca, while shopping at PetSmart.ca, and by using the PIN pads at checkout registers inside PetSmart stores. In turn, PetSmart Charities of Canada efficiently uses more than 90 cents of every dollar donated to fulfill its role as the leading funder of animal welfare in Canada, granting more than $25 million since its inception in 1999. Independent from PetSmart LLC, PetSmart Charities of Canada is a registered Canadian charity. To learn more visit www.PetSmartCharities.ca. 
← Read more news