OVC Home
About
Learn
Research
Hospital
Alumni
Give
Intranet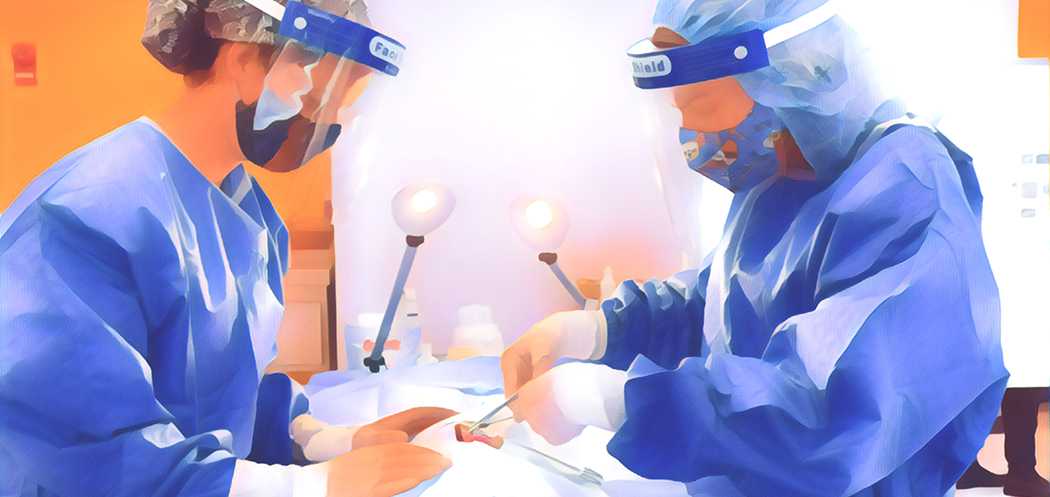 What is a Clinical Skills Learning Model?
January 07, 2022
Practice makes progress for student veterinarians learning technical and clinical skills. A new state-of-the art facility, which opened to students in fall 2020, will further enhance the approach to hands-on, experiential learning and commitment to innovative training programs at the University of Guelph's Ontario Veterinary College (OVC).
The new Enhanced Clinical Skills Addition provides students with access to a dedicated clinical skills space, new communications teaching labs, and flexible teaching space for adaptive approaches to learning.
The clinical skills space will also provide students with the opportunity to access a library of clinical models to improve their capability outside of class hours, if they wish, further enhancing OVC's student-centered approach. Watch this space for more highlights on clinical skills learning at OVC.
Clinical skills models come in all shapes and sizes, literally. Many in use in the Ontario Veterinary College's (OVC) clinical skills labs were developed in-house by instructors to meet their students' particular needs.
Since the Dog Abdominal Surrogate for Instructional Exercises model – DASIE for short - was introduced in their surgery course to help students develop their surgical and suturing skills, simulation models have continued to be an important component in clinical skills training.
The DASIE model remains a mainstay in the clinical skills curriculum with each first-year student provided a model by Boehringer Ingelheim.
In their second year of the OVC DVM program, student veterinarians build a spay model crafted from beads for ovaries, yarn for the uterus and artificial suede cord, which they then must use to practice the steps for an ovariohysterectomy procedure using their DASIE model under faculty supervision. Developed by Clinical Studies professor Dr. Brigitte Brisson, the models help students understand the uterine anatomy and gain confidence with this procedure prior to live animal surgery.
"Many of the materials and models we use in our labs emulate real life," says Brisson. "Giving students the ability to learn without the stress of moving from a textbook directly to a real patient allows them to practice and build confidence."
"We have 3-D printed model cat and dog legs for practicing intravenous catheterization developed through collaboration with the School of Engineering," says Dr. Andria Joy, coordinator of clinical skills training in the Department of Clinical Studies.
Students also practice incisional and excisional biopsy skills with oncology silicone models created by Dr. Michelle Oblak, a surgical oncologist and Clinical Studies associate professor. The silicone models include masses, simulated skin, fascia, and muscle layers to provide students with a realistic example.
 
"The benefit of hands-on practice with models is that we can practice in a safe, controlled environment. Sometimes the best thing we can do in these labs is to make mistakes, so we can see exactly how easy it is to make a mistake, and then learn from it," says Sydney Graham, OVC Class of 2023


 
Recently, Clinical Studies professor and anesthesiologist Dr. Carolyn Kerr worked with Claudia Smith, a PhD student from the School of Engineering, to create a 3-D printed model of a cat. The model permits students to practice tracheal intubation, a procedure that allows for the delivery of anesthetics and oxygen to the lungs through a tracheal tube. Intubation is a key skill and an important task for students to master before they move on to performing general anesthesia on veterinary patients.
Another recent addition is a bovine paravertebral block model, built with assistance from engineering graduate student Michael Lissemore. Equipped with sensors embedded in silicone, the model is used to teach students how to administer a paravertebral nerve block, frequently used to permit surgery in cattle in the field. Learning how to do nerve blocks in standing cattle can be challenging, and the models help students develop confidence, notes Joy.
"We made a giant sheet of silicone that is thicker at one end and thinner at the other to replicate the muscles of a cow's back, one model slightly thicker to simulate a beef cow and one slightly thinner to simulate a dairy cow."
The sensors placed within the silicone model mimic the nerve location and light up when students administer the needle with the nerve block to the correct spot, providing them with immediate, positive feedback.
"The fact that the college is committing time and resources towards building these models has been a major pedagogical shift – a very exciting one – towards enhancing student proficiency and confidence in their learning," says Dr. Joanne Hewson, Associate Dean, Students and Academic.
Beyond the clinical skills lab in the Enhanced Clinical Skills Addition, models are often incorporated into teaching, from an udder to teach how to collect a milk sample from a teat, to scoring models for sheep that help train students to assess body condition, to a full-size horse model donated by the Equine Foundation of Canada and incorporated into the curriculum in 2018. In addition to an anatomically correct reproductive tract, the advanced horse model includes the spleen, kidneys, and digestive tract so students can palpate for normal and colic conditions. Students can also practice intramuscular injections, as well as jugular venipuncture for blood sampling (of imitation blood) on this equine model.
Originally published in the Fall 2021 issue of The Crest, the research, teaching and health care magazine of the Ontario Veterinary College.
← Read more news