OVC Home
About
Learn
Research
Hospital
Alumni
Give
Intranet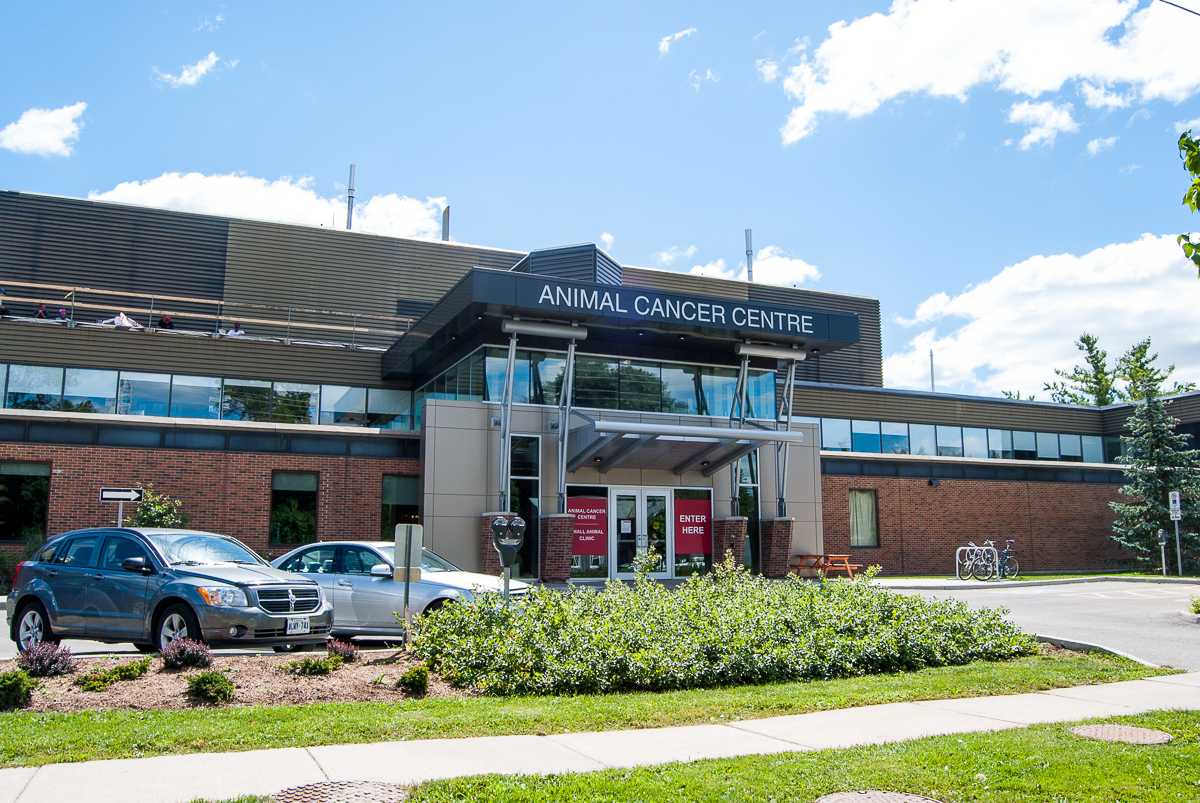 Pet Cancer Awareness Month at OVC
November 30, 2021
As November, Pet Cancer Awareness Month, draws to a close, the Ontario Veterinary College (OVC) is featuring the role of OVC clinical trials in the study and treatment of pet cancer.  
Pet Cancer Awareness Month was established to educate owners on their pet's risk of developing cancer, symptoms to watch out for, prevention methods and advancements in cancer treatment.  
Major contributions to these areas have been made at OVC's Mona Campbell Centre for Animal Cancer, which is home to the Institute for Comparative Cancer Investigation (ICCI). Here, the expertise of cancer biology researchers is combined with the knowledge of clinicians in veterinary medicine to conduct research ranging from lab-based molecular work through to clinical trials of new cancer diagnostics and therapies.  
The ICCI primarily focuses on helping to facilitate translational cancer studies, and also supports projects that study cancer across species, to advance our understanding of both animal and human cancers. ICCI clinical trials are conducted with companion animals at the University of Guelph, as well as with local, regional and international collaborators. 
Clinical trials are research studies performed in all fields of human and veterinary medicine to assess the efficacy of new medical devices, vaccines, treatment options or diagnostic tests. They allow clinicians to discover new and improved ways to prevent, diagnose or treat disease in patients.  
"Advances in cancer research that are made in the lab, need to be moved into clinical practice," says Geoffrey Wood, Co-Director of the ICCI. "This is often referred to as going "from bench to bedside," or in our case, "from bench to kennel-side." 
OVC clinical trials in veterinary oncology, the study and treatment of cancer in animals, focus specifically on advancing current understandings of pet cancer. These trials recruit client-owned animals and are open to certain pets depending on their diagnoses, health status and the focus of the study.  
In addition to helping other animals by contributing to oncology research, there are many benefits to participating in one of these clinical trials. Recruited pets may receive access to new treatments that are not yet available to the public and obtain expert medical care at a leading health care facility.  
There are many OVC oncology clinical trials that are actively recruiting participants. To see a full list of active oncology clinical trials at OVC, please visit the OVC Clinical Trials website. Pet owners should speak with their veterinarian about clinical trial treatment and referral options to OVC.
← Read more news