Intranet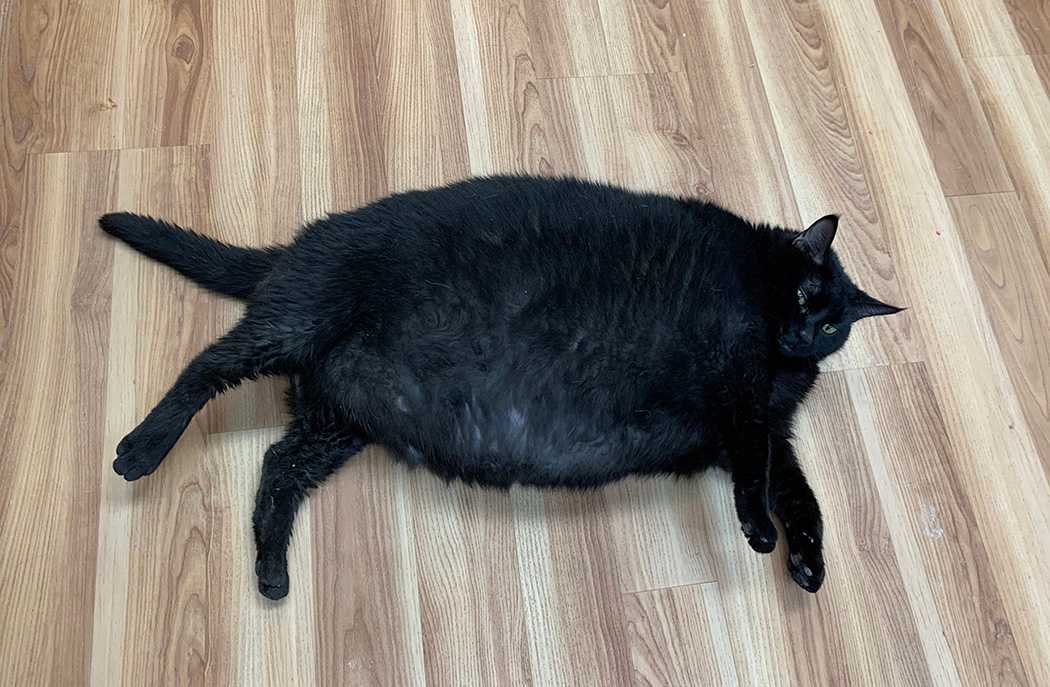 Got an Overweight Cat? Technology Might Help
October 28, 2021
Overweight cats might be adorable "chonkers" to some on the internet, but obesity greatly reduces a cat's quality of life and helping them lose weight isn't always easy. Researchers at the University of Guelph's Ontario Veterinary College are exploring how integrating technology into a weight loss plan can help.
Cat owners often have trouble assessing their pets' weights or recognizing when they've become overweight, says Dr. Theresa Bernardo, in photo at left, IDEXX Chair in Emerging Technologies and Preventive Healthcare and professor in OVC's Department of Population Medicine.
"Cats' weights have slowly climbed over the years, as previous research has shown, so that now close to 60 per cent of cats are overweight and we have come to accept it as normal," she said.
"Oftentimes, the problem is that owners equate food with love; they want to show their love to their pets with treats and extra portions. But the fact is that obesity can lead to many illnesses in cats, just as in humans, that reduce quality of life and lifespan. So it's a significant problem."
Bernardo's research group compared the weight management results for cats in multi-cat households that used a traditional weight loss plan to outcomes for cats under a "pet health technology ecosystem" that included digital scales, smart feeders, activity monitors and pet treat webcams.
Overweight cats on the technology aids lost weight four times faster than the cats on the traditional weight loss method over 12 weeks, the researchers report in the Journal of Feline Medicine and Surgery.
All the cats in the technology group that completed the study lost weight; just over half in the traditional dietary restriction group lost weight.
The average weekly weight loss in the technology group was 0.694 per cent of initial body weight, compared to the traditional group's rate of 0.175 per cent. In other words, an overweight cat that weighed 6.5 kilograms (14.3 lbs) would lose about 541 grams in the technology group and 137 grams in the traditional group after 12 weeks, if all other variables were equal.
All households received a prescription weight loss diet given three times daily and checked in with a veterinarian regularly throughout the study.
The cat owners reported that the smart feeders and digital scales were particularly helpful in keeping them on track and helped to manage some of the most challenging parts of feline weight loss.
"When there's more than one cat in a household, food stealing is often a problem, with one dominant cat taking food from others," said the study's lead author Dr. Barr Hadar, in photo at right, a veterinarian and PhD student in OVC's Department of Population Medicine.
Smart feeders can help solve this problem, as they can be programmed to open only for the correct cat's microchip. The feeders can also be programmed to ensure they contain the precise amount of food needed for each cat.
The use of pediatric scales also allowed cat owners to carefully monitor their cats' weights, which helped to keep them invested in the weight loss program, said Hadar.
"Scales like the ones pediatricians use to weigh babies are much more precise than typical bathroom scales," he said. "With affordable and accurate electronic scales readily available, we believe a scale should be in every feline household to help both with weight management and to detect sudden weight loss or gain."
Hadar noted there are upfront costs of buying scales and smart feeders to manage cat weight, but those costs are much less than managing obesity-related diseases, such as diabetes and arthritis.
Hadar is now working with study co-author Dr. Ken Lambrecht, a veterinarian in Madison, Wisc., who has developed veterinary-supervised weight management programs and studies at-home technology to improve obesity management. Together, they are creating an app and launched a startup called Healthy Pet Connect that offers pet health telemonitoring, tracking weight metrics and offering veterinarian coaching.
"This study demonstrated that a technology-enhanced health program can be an effective and practical tool in a feline weight loss strategy," said Hadar.
Co-authors on the study included Population Medicine colleagues Drs. Zvonimir Poljak and Jason Coe and Clinical Studies professors Drs. Adronie Verbrugghe and Elizabeth Stone.
← Read more news