Intranet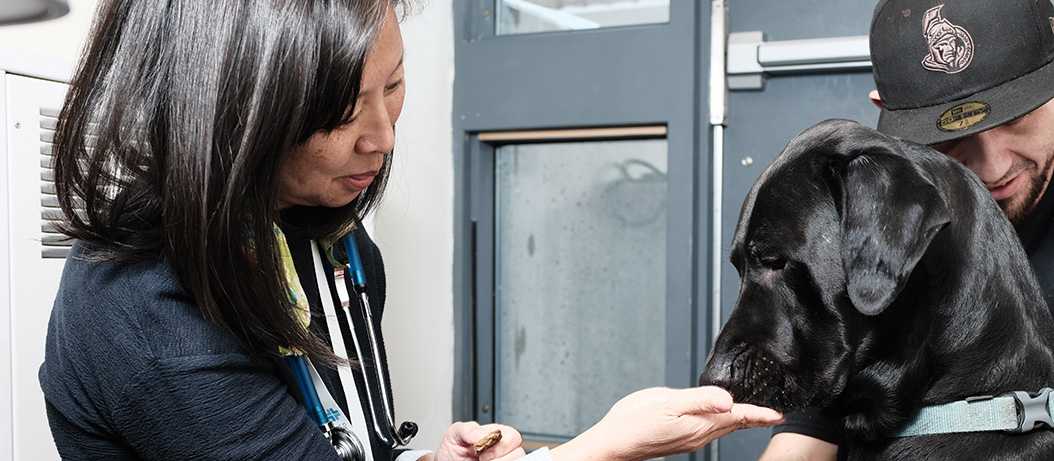 In conversation with Dr. Michelle Lem
July 12, 2021
Founded by veterinarian Michelle Lem in 2003, Community Veterinary Outreach (CVO) improves the life of homeless and vulnerably-housed individuals, families and their pets through a One Heath model of care. The first of its kind, the registered charity has engaged veterinarians as community health liaisons, transforming how veterinarians, human healthcare and social services interact with marginalized populations and their pets. An OVC DVM 2001 graduate, Lem returned to OVC in 2009 to study the effects of pet ownership on street-involved youth.
You spearheaded an innovative community veterinary outreach program offering human health services and health education alongside preventative veterinary care that is a model for exemplary work in this area. What led you to focus on this important area?
One Christmas, while still in vet school, I volunteered to serve food at a church in Toronto. That was the first time I met someone who had a dog who was homeless. I had the same bias a lot of people have. I assumed that these dogs are probably hungry and not getting care. I found out that wasn't the case. It was also the first time I had a chance to sit down and hear these folks' stories of what led to homelessness. I hadn't really worked in the space around homelessness until I served that meal. It was an eye-opening experience for me.
When I returned to Ottawa after graduating from OVC I set up a mobile unit and began offering behavior consultations for companion animals, but I wanted to broaden how I used the mobile unit. I was working full time as a veterinarian and teaching at the local college, but also wanted to offer wellness care for pets. Through a veterinary colleague, I contacted the executive director of the Ottawa Mission, an organization that offers community and social services to the most vulnerable in the community, and offered to provide wellness clinics. That first clinic was just me and a classmate; we saw 12 people that day, offering exams and immunizations. It was really pretty small. But word of mouth started to spread.
We developed a relationship with the public health unit and they started sending their nurse to our clinics. We also started to hear that social workers and agencies were able to engage new people who needed support because they were coming in asking about the vet clinic. By working with us on outreach they began to see pets were a way to establish rapport and a relationship.
Since I started CVO I've been asked many times 'should homeless people have pets'? It's a misguided question. You can't answer that question unless you understand what homelessness is and what contributes to it. To understand homelessness, you have to understand the structural and systemic barriers that prevent people from being healthy and accessing care, the social determinants of health, their lived experiences, the impacts of racism, ableism, gender inequality, heterosexism, economic disparity and intergenerational poverty. These are all the same things that impact animal welfare. You can't address animal welfare in any meaningful way without understanding that the things that are impacting people are also impacting animals and people's ability to care for them.
I've always had the sense from the beginning that you just kind of put your head down and do what you feel you need to do. And this is what I found, that people start to walk on the path with you. People who are like-minded with similar goals and shared values, start to join you in this journey.
You are helping to redefine the role of veterinarian as community health workers. Did you always see veterinarians in this light or did this approach evolve as you developed the CVO program?
It definitely evolved over time. As we partnered with other community organizations and human health and social services, we came together with the same goals, to improve the health and welfare of those marginalized in our communities, human and animal alike. As veterinarians, we had much to learn about the challenges that our clients and their pets experienced, and we also had the opportunity to educate on the significance and impact of the human-animal bond. We believe that CVO is an interdisciplinary model where all of us are there to serve both the people and their animals regardless of our professional background.
What do you value most? What are the greatest challenges for a veterinarian working in this area?
I value the possibility to impact both people and animals, but a big challenge is the embedded concepts that people have about the role of veterinarians. As One Health practitioners, we see veterinarians as community connectors and partners, and have a unique and trusting relationship with people through their animals. Part of the challenge is to demonstrate the impact of our work on human health and this is one of the reasons I came back to do my masters at OVC, to conduct peer-reviewed research to contribute to the scientific knowledge base on the social issues involving animals. Another challenge is the cultural sensitivity and competency piece, which is the reason I pursued a masters degree in social work. Social work helped me learn so much about myself, others and my place in this world. It has literally changed how I interact with every person, not just my clients. I think that profoundly elevates my ability to make impact, and I believe that when working with marginalized populations as veterinarians we need to embrace and practice the values and ethics of social work.
Could you give an example of a particular challenge or setback you overcame and some words of encouragement for others who wish to pursue a path in community medicine?
I can think of two instances in which I experienced real challenges to my outreach work. They represent the exception, not the norm. I had to reach deep down inside myself, have some really honest, heartfelt conversations with people I trust to help me deconstruct the situation and find my truth because these instances challenged everything that I thought I believed. Having people who can support you in the process of deep critical reflexivity is so important. I also believe that having those really challenging moments is important because if you can work through those moments when your convictions are challenged, that's when you know what you truly believe and who you really are.
Photo: Dr. Michelle Lem with a client and his dog at a Community Veterinary Outreach clinic in Ottawa (Courtesy of Community Veterinary Outreach)
Originally published in the Summer 2020 issue of The Crest, the research, teaching and health care magazine of the Ontario Veterinary College.
← Read more news