Intranet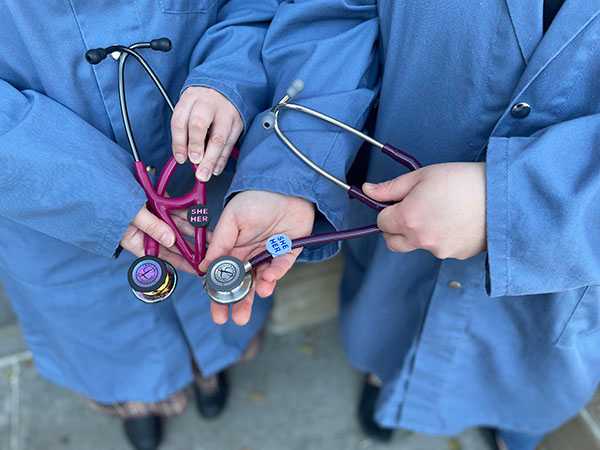 OVC Pride VMC Student Club Promotes Inclusivity with Pronoun Clips for Stethoscopes
October 07, 2021
Members of the Pride Veterinary Medical Community (Pride VMC) student club at the Ontario Veterinary College (OVC) are promoting inclusivity by offering pronoun stethoscope clips to OVC student veterinarians and faculty.
These 3-D printed pronoun clips can be displayed on a stethoscope to show the wearer's personal pronouns to others, such as their clients and colleagues.
Kendall Kaufman, former president of OVC Pride VMC, explains that "displaying pronouns or introducing oneself with them creates an inclusive environment for everyone around you. It is key that we do not assume an individual's pronouns, as this implies that we must appear a certain way to correspond with specific pronouns."
"Even if our appearance does happen to correspond with the conventional idea of what our pronouns are," Kaufman continues, "displaying them in our email signatures, on our stethoscopes, or being mindful to ask how someone would like to be referred to, normalizes the experience for those who have felt disrespected when someone has referred to them by incorrect pronouns in the past."
The goal of OVC Pride VMC is to provide a safe, inclusive community for members of the LGBTQIA+ community and allies to converse and engage with each other. Kaufman believes this is especially important in veterinary medicine because "we are a community where people of all different backgrounds come together, and it is important to recognize and appreciate what makes us all different - as well as what bonds us together!"
OVC Pride VMC made these stethoscope clips available to the OVC community for purchase in March of 2021.
OVC Pride VMC is a student-run chapter of its overarching organization, Pride VMC, which stretches across most North American veterinary colleges. This organization aims to be as inclusive as possible in order to create a veterinary profession where all members can live their lives openly, and to the fullest.
Pronoun stethoscope clips are offered by Pride VMC, and through this partnership, the secretary of OVC Pride VMC Gabi Stefou has helped to distribute over 71 stethoscope clips to members of the OVC community.
These stethoscope clips are readily available for purchase in several colours and pronouns: she/her, he/him, they/them, she/they, and he/they. Alternative, customized pronoun orders through Pride VMC are available as well.
In addition to their pronoun stethoscope clip initiative, OVC Pride VMC also provides a variety of events for student veterinarians, faculty and veterinary professionals. This past academic year has included events like online game nights, as well as a diversity and inclusivity dinner.
If you are interested in purchasing your own pronoun stethoscope clip, please place an order at Pride VMC's merchandise page.
← Read more news