Intranet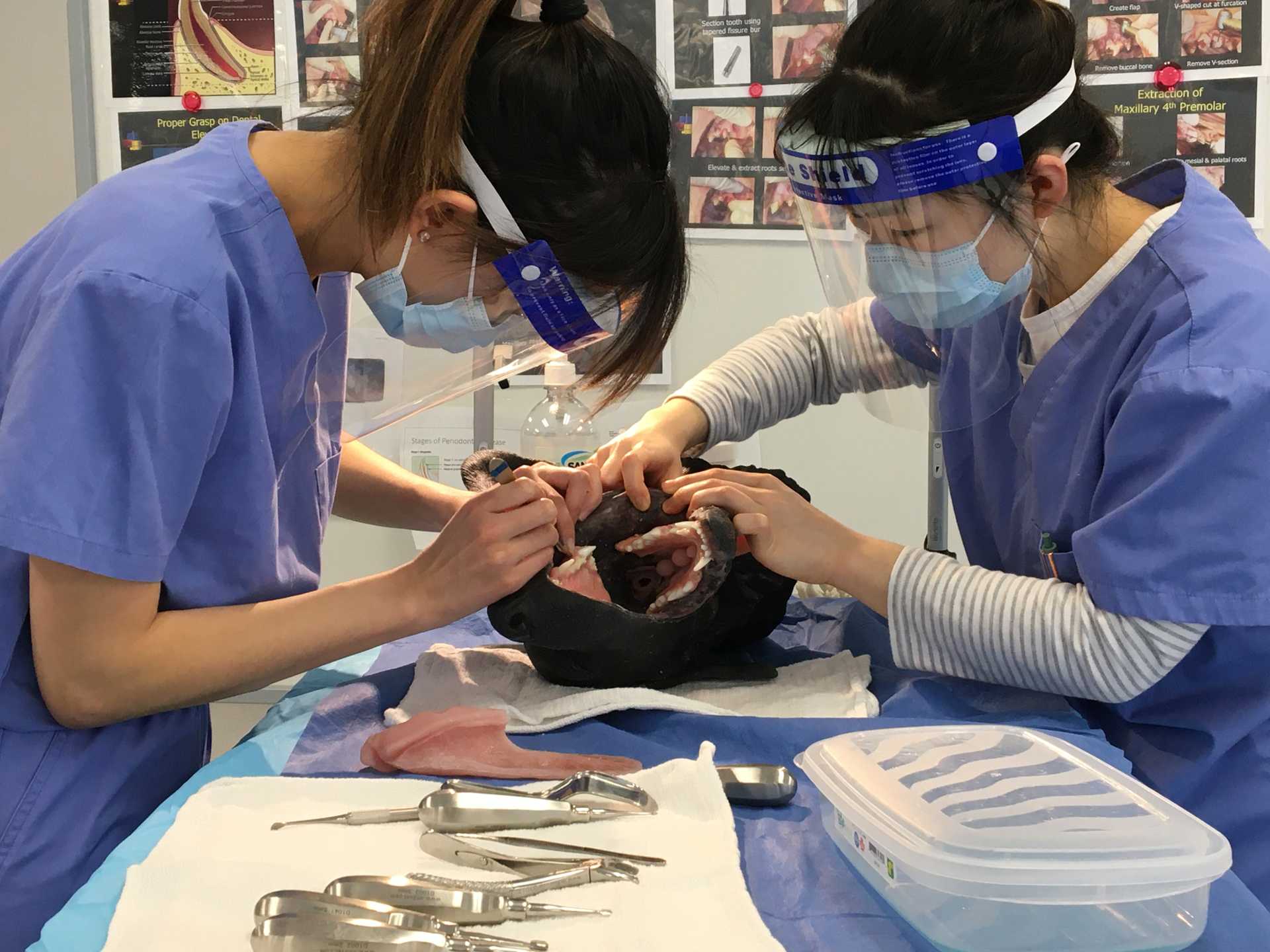 OVC Student Veterinarians Brush Up On Dentistry Skills
September 23, 2021
Practice makes progress for student veterinarians learning technical and clinical skills. A new state-of-the art facility, which opened to students in fall 2020, will further enhance the approach to hands-on, experiential learning and commitment to innovative training programs at the University of Guelph's Ontario Veterinary College (OVC). 
The new Enhanced Clinical Skills Addition provides students with access to a dedicated clinical skills space, new communications teaching labs, and flexible teaching space for adaptive approaches to learning. 
The clinical skills space will also provide students with the opportunity to access a library of clinical models to improve their capability outside of class hours, if they wish, further enhancing OVC's student-centered approach. Watch this space for more highlights on clinical skills learning at OVC. 
OVC student veterinarians brush up on dentistry skills with life-like learning models
The OVC clinical skills training for DVMs has expanded again over the last two years with the addition of dentistry labs.
First introduced in early 2019, the second-year labs feature high-fidelity dentistry models and dentistry stations to provide students with hands-on practice in dental exams, cleaning and tooth extraction skills. 
"We heard from alumni and employers of our graduates that giving DVM students hands-on practice in dental exams, cleaning and tooth extraction skills would be extremely beneficial," says OVC Dean Dr. Jeff Wichtel. "Thanks to support from VetStrategy, we were able to purchase high-fidelity dentistry models and dentistry stations to support the second-year labs and better prepare our students for practice."
The dentistry labs focus on prevention and treatment, with students learning how to use an ultrasonic scaler, a polisher and gain experience with all the basic dental hand instruments, dental radiographs and local anesthetic blocks. 
"Each of these models, manufactured by Veterinary Simulator Industries, are a work of art and take meticulous manufacturing," says Dr. Andria Joy, coordinator of clinical skills training in OVC's Department of Clinical Studies. Along with the models are five new Dispomed dental machines, made possible in part with a $100,000 sponsorship from VetStrategy.
The sophistication of the models allows the students to perform all three types of extractions: single root, multiple tooth extraction and surgical or complicated extraction, with gingival flaps including elevation of the periosteum. 
"We present clinical scenarios that students will see in practice," adds Joy. "Periodontal disease occurs in 70 per cent of patients, so this is critical information for our graduates to know." 
Client education is another key component of these labs. "Clients may not appreciate the importance of dental care to an animal's overall health, or they may be confused or resistant to preventative care and treatment," says Joy. "Students need to have an understanding of dental disease and dentistry to have the answers for the kinds of questions they will hear when they enter practice."
Infrastructure renewal at the Ontario Veterinary College, including the new spaces for enhanced clinical teaching and learning, as well as advanced surgery and anesthesia facilities in the OVC Health Sciences Centre, have been made possible by a $23 million investment from the provincial government, announced in March 2016.
← Read more news