Intranet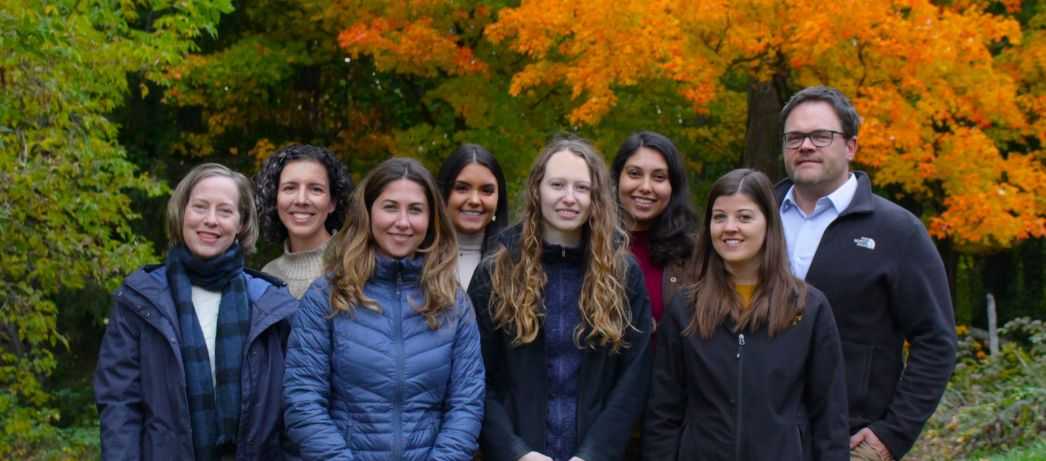 Strengthening the relationships at the core of veterinary medicine
February 28, 2023
(Banner image: Pictured above are members of the Relationship-Centred Veterinary Medicine at the Ontario Veterinary College research team (from left to right): Dr. Kirsten Blokland, Dr. Lea Nogueira Borden, Rosalie Fortin-Choquette, Abby Davies, Dr. Kat Sutherland, Catherine Groves, Dr. Natasha Janke, Dr. Jason Coe.)
This essay was written by Dr. Jason Coe, professor in the Ontario Veterinary College's (OVC) Department of Population Medicine and VCA Canada Chair in Relationship-Centred Veterinary Medicine, and Dr. Jeff Wichtel, OVC Dean. It originally appeared in the American Journal of Veterinary Research. 
Veterinary medicine is a field on the precipice. In the midst of a global pandemic, veterinarians and clinical staff have worked diligently on the front lines of an overburdened healthcare system where demand for veterinary services continues to rise and practitioner burnout appears to be at an all-time high. In order to ensure a brighter future for the veterinary profession and the individuals who dedicate their lives to animal care, we must now grapple with complex and interconnected challenges related to mental health and wellness, historic workforce shortages, and inequities in access to veterinary care, among others. 
At the University of Guelph's Ontario Veterinary College (OVC), a team of researchers has established an interdisciplinary research program that aims to examine and support the relationships that form the foundation of the veterinary profession. Developed in 2021 under my leadership as the VCA Canada Chair in Relationship-Centred Veterinary Medicine, the Relationship-Centred Veterinary Medicine at OVC (RCVM@OVC) program is dedicated to research that will inform more sustainable approaches to the delivery of primary health care by developing an understanding of factors that achieve stronger veterinary health-care teams, better health outcomes for all stakeholders, and broader access to veterinary care. 
The 5 foci of research of the RCVM@OVC program are as follows: effective clinical communication; team-based veterinary health care; improved access to veterinary care; the integration of virtual care; and improved veterinary training. Together, these 5 avenues of research are intended to provide new ways for veterinary medicine to approach the delivery of companion animal health care. 
Building on previous studies, the RCVM@OVC program is working to establish and mobilize best practices to support the veterinarian-client relationship and to implement effective communication strategies that will ultimately increase client adherence to veterinary advice and improve patient welfare. In observing the associations between veterinary team effectiveness and impacts on team members' job satisfaction and personal wellness, we are working to better understand how the veterinary team culture can support staff retention, enhance business metrics and improve outcomes of veterinary care. By examining veterinary professionals' use of shared decision-making, we will identify and address some of the knowledge-based barriers to accessing veterinary care. The program will also investigate the role that technology can play in the provision of virtual care and improved access to care as well as inform best practices for mobilizing and transferring new knowledge obtained from the program to veterinary education and practice. 
In a shifting veterinary landscape, it behooves us to invest in research that will allow us to better understand the driving factors that enable effective, accessible veterinary care. Among burgeoning caseloads, evolving client expectations, and technological innovation, the RCVM@OVC program is working to uncover evidence-based solutions to enhance the wellness of veterinary staff, their patients and the clients who love them, and the future viability of veterinary practice. 
To learn more about the RCVM@OVC program, visit: http://rcvm.uoguelph.ca. 
← Read more news