Intranet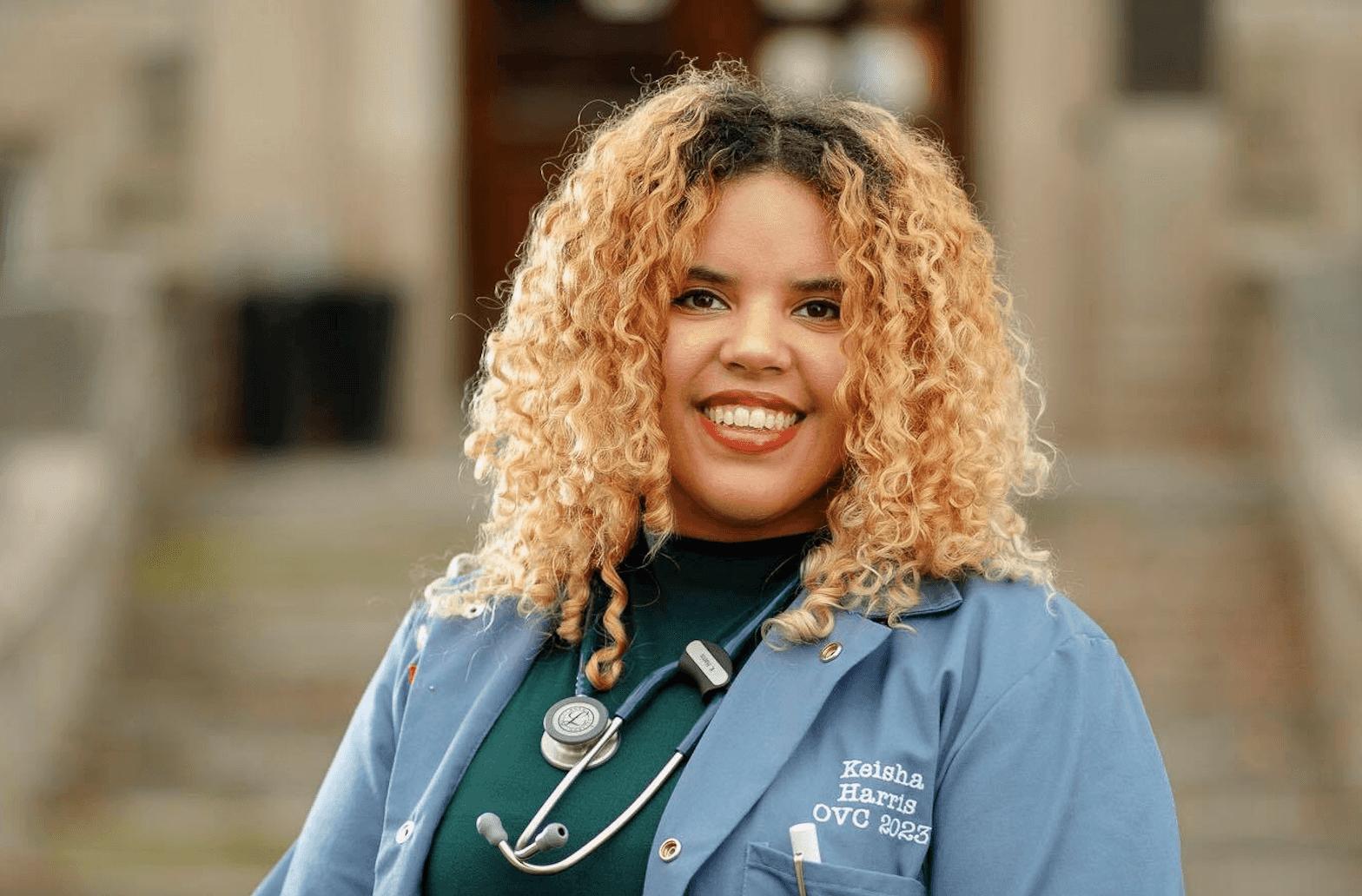 Recognizing Black Excellence In Veterinary Medicine
February 15, 2023
Ontario Veterinary College (OVC) alumna Dr. Cynthia Rose created the Rose Bursary to support student veterinarians with Black heritage in the Doctor of Veterinary Medicine (DVM) program. As a Black veterinarian herself and partner at Granville Island Veterinary Hospital in B.C., the award is accompanied by the rare opportunity for both personal and professional mentorship. 
Dr. Rose, U of G B.Sc. 2008, OVC DVM 2012, was motivated by the unjust brutality of the George Floyd case in 2020. She became inspired to explore opportunities where she could directly impact racial equity and facilitate change and growth. She was also acutely aware of the need to address issues associated with the lack of diversity in her profession.  
By chance, Dr. Rose stumbled upon the online presence of the Canadian Veterinary Professionals Instilling Black Excellence (VIBE) Network, a non-profit founded by Black student veterinarians at OVC. She shared, "I discovered I was not alone." VIBE's goal is to improve the representation of Black veterinary professionals in the industry by increasing their visibility in recruitment and mentorship and through financial support for their veterinary education.  
Dr. Rose embraced VIBE's call to action for financial assistance to students and launched OVC's first bursary directed to students with Black heritage. Dr. Rose is hoping to offer candidates the support of a full scholarship someday. She welcomes contributions to this award from additional donors who feel passionately about growing the number of Black veterinarians in the field. 
Keisha Harris, OVC Class of 2023, was one of the three Black student veterinarians, also including Kayla Charles, OVC Class of 2023, and Dr. Melanie Moore, a 2021 DVM graduate, who came together in 2021 at OVC to create VIBE. As fate would have it, in 2022, Harris was the inaugural recipient of the Rose Bursary, and she was exceedingly grateful for the help. In addition to her self-reported status as a first-generation university student, second-generation Canadian, "and very much financially strained," the pandemic compounded Harris's challenges by curtailing her access to part-time work. 
The mentorship component of the Rose Bursary is a unique opportunity at OVC. In her role as co-founder of VIBE, Keisha believes this support will contribute to the recipient's mental health and retention of Black veterinarians in the profession. She is certainly looking forward to her own mentoring sessions with Dr. Rose. 
"We know that being a veterinary student comes with its own burden on your mental health and we know that on top of that, minority students can feel additional burdens like isolation and imposter syndrome," said Harris. "So having this mentorship is a great first step in helping students feel supported, especially from a professional that looks like you." 
Both women are looking forward to the day when the diversity of the profession mirrors the diversity of our country. Dr. Rose believes the key to expanding BIPOC representation in the veterinary profession is through the support and encouragement of youth who are curious about a career in veterinary medicine. 
Both agree that marketing the profession to Black youth needs to include Black veterinary professionals' outreach to high schools. As well, aspiring Black vets need financial support to enter and complete their prerequisite bachelor undergraduate degree programs, like Animal Biology, in addition to their DVM. 
Originally published on the University of Guelph Alumni Affairs and Development website.  
← Read more news