Intranet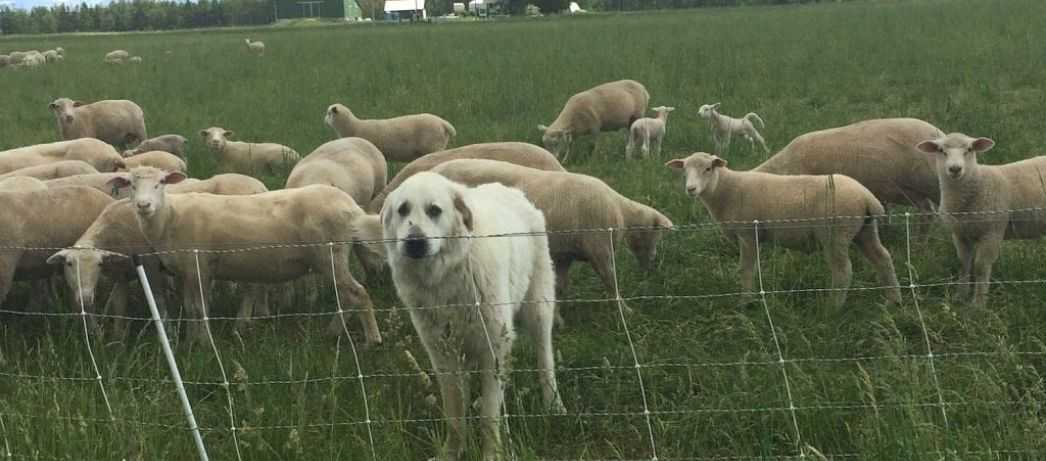 OVC Researcher Brings Together Epidemiology, Engineering, and Economics to Find Solutions to Cache Valley Virus Disease
February 06, 2023
(Banner image: Ewes housed on pasture.)

An Ontario Veterinary College (OVC) researcher is bringing together her background in epidemiology, engineering, and economics to investigate a mosquito-borne disease.  
Michele Bergevin, a PhD candidate in epidemiology in OVC's Department of Population Medicine, is investigating Cache Valley Virus (CVV) – a mosquito-borne zoonosis that infects both humans and animals and is most often reported in sheep. Bergevin, supervised by Drs. Katie Clow and Vicky Ng, is particularly interested in the disease in the context of climate change.  
Bergevin completed her Bachelor of Science (B.Sc.) in Biology and Biomedical Engineering at the Massachusetts Institute of Technology (MIT) with a minor in economics, and then completed her master's in applied science (MASc) in Biomedical and Mechanical Engineering at the University of Toronto. She is also trained as a veterinary technologist. 
Commenting on the shift from engineering and economics, to vet tech and epidemiology, Bergevin said, "I have always wanted to work in infectious diseases related to wildlife veterinary medicine. I'm exactly where I want to be – in veterinary epidemiology.  I just picked up additional skills along the way!", noting how her background in engineering and economics gave her a leg up in solving problems, delivering on commitments, and an eagerness to engage with data trends and analytics.  
Bergevin credits her diverse educational and professional background with helping her to consider the many variables associated with CVV disease. 
Normally, sheep can easily fight the virus and develop antibodies that offer long-term protection. However, if a pregnant ewe is infected for the first time in early pregnancy, the offspring will develop serious congenital effects, leading to spontaneous abortion or stillbirth. 
CVV outbreaks are devastating to flocks and shepherds alike. In cases where a CVV disease outbreak is incorrectly diagnosed, shepherds of purebred flocks may assume that resultant birth defects caused by CVV are due to flock genetics. Genetic health problems are a nightmare to shepherds – if one sheep is diagnosed with genetic health problems, that sheep and all its relatives may be culled. In a purebred flock, many sheep are from related lineages, meaning large culls may occur if genetic problems are assumed. This compounds the financial loss that sheep farmers face from losing infected ewes and their young to an outbreak.  
Mosquito populations – which spread CVV – are sensitive to changes in precipitation and temperature, both of which are influenced by climate change. Typically, herd immunity is achieved by consistent exposure to mosquitos carrying CVV.  However, if there are a few years with low rain followed by a year with heavy rain, infected mosquito populations initially dive and then subsequently surge, meaning sheep not previously exposed to the virus are at great risk of CVV disease if bred in late-summer to mid-fall.  
"This means that the outbreaks typically come as a surprise to farmers," says Bergevin.  
Because there is no vaccine or treatment for this mosquito-borne disease, it is important to identify farm practices that may help to mitigate risk factors as well as those that may be unintentionally increasing the risk for CVV exposure and in turn disease.   
Bergevin is conducting a cross-sectional study, meaning she's taking a snapshot in time of CVV exposure patterns across Ontario. This will help her identify associations between farm management practices and the risk of viral exposure.  She is also conducting spatiotemporal analyses on the mosquitoes in Ontario (looking for where mosquito densities peak and when) to improve CVV surveillance and generate risk maps applicable to both humans and animals. She is developing statistical models to add more quantitative rigor to this study and hopes their application can extend to the study of other endemic mosquito-borne diseases. 
Bergevin says her diverse educational background and use of the One Health approach have been invaluable for this study. 
"I realized how important the business side of CVV disease is when I was conducting fieldwork, because one of the reasons [CVV disease] persists is a result of economically driven decisions that the shepherds feel compelled to make," says Bergevin. She also stressed that the shepherds she has met and worked with across the province were open-minded and continuously desired to improve industry practices. 
Bergevin says that she is constantly looking at the research problem through different lenses. 
"To me, breadth in a One Health approach must be complemented by depth," she says, stressing the value of not losing sight of her areas of expertise. 
The research project is a collaborative effort that involves epidemiologists from the University of Guelph, entomologists from Public Health Ontario, disease modelers from the Public Health Agency of Canada, climatologists from McGill University, virology specialists from Sunnybrook Research Institute, and geospatial analysts from Esri Canada. 
Find out more about Bergevin's work at the Ontario Sheep Farms non-profit organization. 
Find Michele's presentation to the Board of Directors of all sheep district leaders from Ontario, and an article in their quarterly sheep magazine here (scroll down to the Summer 2022 issue). 
Adapted from an article written by Marilyn Sheen and originally posted on the University of Guelph's One Health Institute website.  
← Read more news