Intranet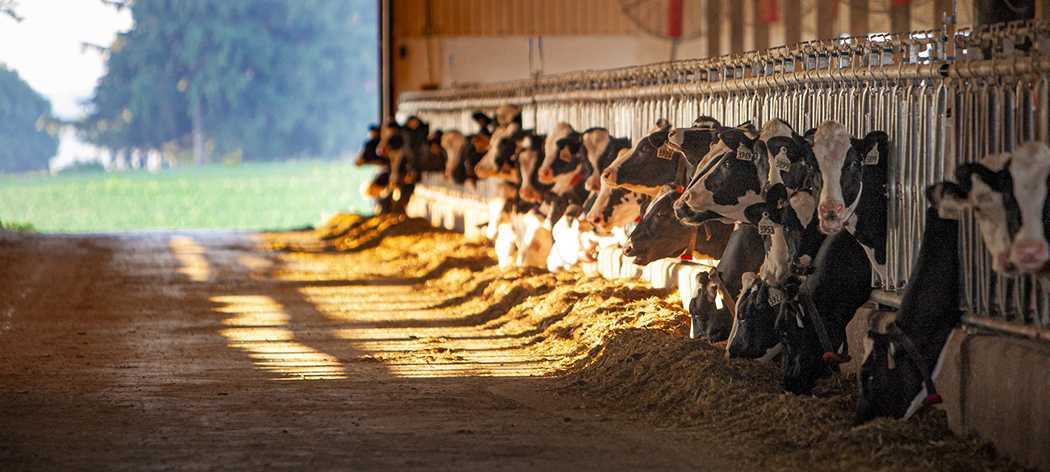 New Dairy Scholar Program Provides Enhanced Expertise to Recent Veterinary Graduates
January 17, 2023
(Banner photo of dairy cows - credit Karen Whylie, University of Guelph)
A new opportunity with the Saputo Dairy Care Program at the University of Guelph is providing enhanced experience to recent veterinary graduates. 
The Saputo Dairy Care program, which was established in 2015, is a partnership between Saputo, the Campbell Centre for the Study of Animal Welfare (CCSAW) and the Ontario Veterinary College (OVC), that features intensive learning in dairy cattle welfare for final-year student veterinarians from across Canada and abroad.  
The newly established Saputo Dairy Welfare Scholar Program, launched in 2022, builds on the program's elective rotation, with a focus on fostering leadership in the area of dairy cattle care and welfare, among early-career veterinarians. 
The immersive one-week opportunity, guided by U of G CCSAW and Dairy@Guelph faculty Drs. Todd Duffield and Derek Haley, includes hands-on experience as well as tours and discussions concerning animal welfare and the dairy industry from a variety of points of reference, tailored in part to the students' areas of interest.  
Immersive experience fosters leadership
"This new aspect of the program was developed and enriched by Dairy@Guelph faculty and by various community partners for the purpose of fostering welfare leaders among early career graduates," says Haley. "The program is unique as it's only for those who have taken the dairy welfare fourth-year rotation." 
In fact, the impetus for the scholar program grew in part from student feedback, with the vast majority who have taken the dairy welfare rotation noting they wished it were longer than one week.  
"The essence of this experience is to reach beyond teaching skills and encourage contextual self-directed learning," said Duffield. "This program offers an additional learning opportunity for highly motivated graduates to engage in and positively advance important welfare conversations with producers and the wider industry." 
For the 2022 scholars, Drs. Elouise Molgat and Rachel Loppe, it was an opportunity to build on information learned during the clinical rotation and their first year practicing veterinary medicine.  
Molgat, received her Doctor of Veterinary Medicine (DVM) degree from the Université de Montréal in 2021, and started her career in a farm animal practice in Eastern Ontario. Her scientific curiosity and love for the industry recently led her to a new professional challenge as a veterinary advisor with Lactanet. 
A mixed-animal veterinarian at the Country Animal Hospital in Courtenay, B.C. on Vancouver Island, Loppe is a 2021 DVM graduate of the University of Calgary Faculty of Veterinary Medicine. During her time in Calgary, she developed a passion for dairy production, medicine and welfare. She loves herd medicine and working with farmers to achieve a healthy, productive herd. 
"The dairy industry is under increased scrutiny with society's concerns around animal welfare, sustainability and environment," says Molgat. "Veterinarians, as animal health professionals, have the knowledge to support the industry and to influence it positively. 
Hands-on and thought leadership opportunities
Dr. Lena Levison, Saputo Dairy Care Manager, transitioned the program concept to reality, ensuring the week-long experience included a mix of hands-on and thought leadership opportunities.  
In addition to time spent at the Ontario Dairy Research Centre, Molgat and Loppe visited local dairy and beef farms, and a local calf raiser rearing beef-on-dairy cross calves, focusing on barn design and welfare considerations and delving into discussions on feeding behaviour and industry animal care initiatives. They also joined the OVC Ruminant Field Service for herd health checks, disbudding calves, lameness checks and an opportunity for hands-on hoof trimming. The program also included a visit to the Ontario Livestock Exchange (OLEX), the largest livestock sales barn in Ontario.  
As part of the program, scholars also are tasked with contributing to industry continuing education on a specific topic discussed during the week, such as an in-person producer meeting, a webinar with veterinary colleagues, or by creating a factsheet or farm press article. 
"These veterinarians are coming back for this program after time in practice, which is extremely unique and for us, insightful," added Haley. "As instructors, we get a chance to find out whether what we taught in the final year rotation was useful, how we might make it more useful and what topics it might be good to add." 
As a new graduate veterinarian, Molgat noted that dealing with animal welfare can be challenging. After a year in field practice, the scholar program provided a supportive school setting for in-depth discussions with experts on the subject. 
Added Molgat: "For me, it was an eye-opening experience to learn about the work that has been done in animal behaviour and welfare; this knowledge is ready to be implemented in the field by progressive veterinarians and producers." 
← Read more news