Intranet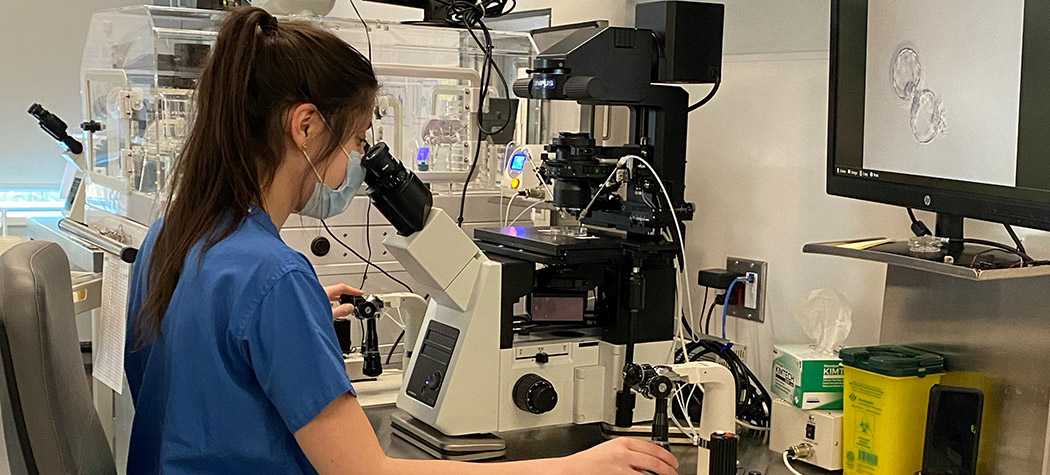 The Fruits Of Her Labour: OVC Alum Is Fulfilling Her Aspirations To Help People Overcome Infertility
September 29, 2022
Raquel Pereira is fulfilling her aspirations to help people overcome infertility. 
Pereira is a 2020 graduate from the Ontario Veterinary College's (OVC) Master of Biomedical Science program in the Applied Reproductive Biotechnologies stream. In her current role as a clinical embryologist at Hannam Fertility Centre in Toronto, Ontario, Pereira relies on the skills she gained through hands-on learning opportunities at the college to provide individuals and couples with the opportunity to expand their families using in vitro fertilization (IVF).  
During her undergraduate degree at the University of Waterloo, Pereira initially pursued a career as a pharmacist. Two years into the degree, she was diagnosed with polycystic ovarian syndrome (PCOS).  
"My diagnosis opened my eyes to the world of reproductive medicine and the more I learned about my disorder, the more passionate I became about IVF and other assisted reproductive technologies," says Pereira. "After that I knew I wanted to be part of this amazing industry and dedicate my working career to helping women in similar situations as my own."  
Pereira's experience with her own diagnosis of PCOS led her to pursue courses and training opportunities related to reproductive medicine. In addition to in-house clinical and research training in IVF, OVC's MBS program, coordinated by Biomedical Sciences professor Dr. Laura Favetta and by the Applied Course Work Master's Practicum manager Dr. Olutobi Oluwole, provides many opportunities for students to visit various human and animal facilities in assisted reproductive technologies and complete job shadowing in this area.  
"Guelph's MBS program is so unique… it stands out amongst other programs in the field," says Pereira. "It provides an overview of both aspects of reproductive medicine and gives students the freedom and flexibility to choose their career path."  
In observing reproductive health specialists at the many clinics Pereira visited with her program cohort (including Hannam Fertility Clinic), she was able to see how the information she was receiving in her classes tied into medical practice. Though Pereira's career interest lies in the clinical setting, the MBS program's research component also prompted a keen interest to learn more about IVF research. She is a part of the CCRM fertility network as a way to stay involved in new and upcoming research related to IVF, and to network and collaborate with other professionals in her field, including clinical embryologists. Ultimately, these experiences gave Pereira the insights she needed to chart her own path; she decided to pursue a career in a clinical setting.  
"Not only do I use the clinical skills I learned in IVF training every day, but I am also grateful for what I learned about research because of the many scientific studies the CCRM network performs," says Pereira.  
Pereira credits her experiences at OVC, along with the skills and insights she acquired through the MBS program, as a selling point in her becoming a clinical embryologist.  
"The job shadowing opportunities helped me enter the workforce and find the job that I love so much today," says Pereira. 
Originally published in the Fall 2022 issue of The Crest, the research, teaching and health care magazine of the Ontario Veterinary College. 
← Read more news