Intranet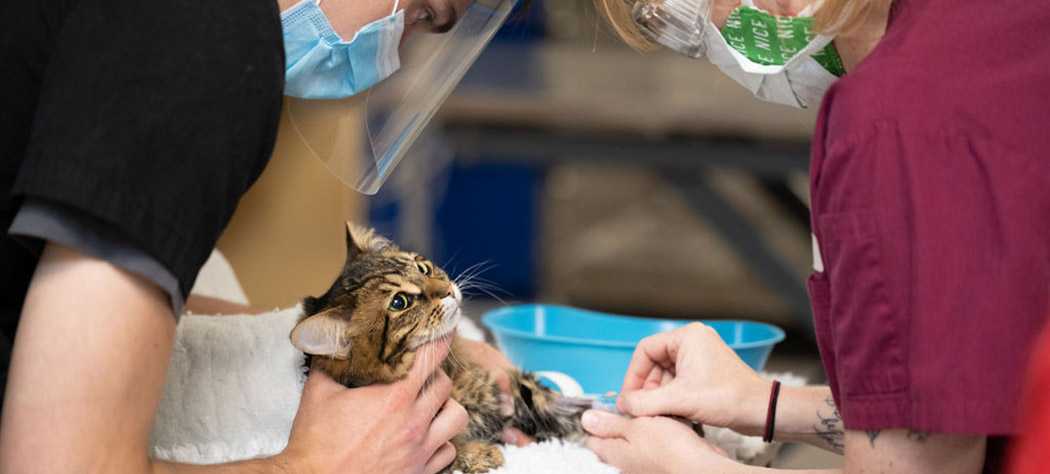 A Place of Rest and Recovery: Building Expertise From Coast to Coast
December 08, 2022
In photo above: Ontario Veterinary College Health Sciences Centre staff provide care to Crouton
For patients in a veterinary intensive care unit (ICU), round-the-clock supervision or quiet healing time can mean the difference between life and death. And at the Ontario Veterinary College (OVC), where an estimated 50 per cent of patients spend some time in the ICU, it's hard to remember a time without it.  
But what many people don't realize is the veterinary ICU, and the specialty of veterinary emergency and critical care, is a relatively new idea. OVC's ICU was the first unit of its kind in Canada and one of only a handful across North America. That pioneering work in the field was led by a small number of visionaries and has grown steadily and inspired a span of influence through alumni who continue to build similar programs that lead the field of veterinary critical care across North America.  
Developing An ICU 
Dr. Wayne McDonell, manager of OVC's Small Animal Hospital in the 1980s, says the ICU at OVC developed out of an unlikely problem: veterinarians in the area surrounding Guelph were becoming more skilled and confident in their work. They were only sending their most complex referrals to OVC.  
"Even back then, OVC had the largest number of specialities and the biggest faculty, and our expertise was well-established," McDonell says. "We needed to expand our capacity to care for patients post-operatively and in other critical cases."  
McDonell recalls complex cases such as older dogs undergoing back surgery, or patients needing treatment for a condition that might be further complicated by heart failure or kidney failure. At the time they were cases that only OVC's level of care and expertise could manage. But a more suitable space was required.  
The idea of intensive care facilities for animals was gaining some traction among the world's leading veterinary schools.  
"I swore that if we were going to set up an ICU at Guelph, we would either develop a fully functioning unit with a dedicated space or we would not do it at all," McDonell says. He worked with colleagues to acquire essential equipment and advocated to hire clinical staff for 24-hour coverage.  
"You can't run an intensive care facility and have everyone leave at five," he says. "We needed around-the-clock staffing and faculty that could be on call overnight. There were so many concepts that were new to all of us at the time."  
A Temporary Position
To manage his new ICU, McDonell approached Dr. Karol Mathews, a veterinary surgeon who had recently completed her post-doctoral work in kidney transplants. The job was a temporary position, responsible for supervising a rotation of veterinary medical students. Mathews eventually became Canada's first board-certified veterinary emergency and critical care medicine (E&CCM) specialist and is widely regarded as a pioneer in the field. She also served as president of the Veterinary Emergency and Critical Care Society between 2002 and 2004 and chair of the World Small Animal Veterinary Association's Global Pain Council from 2010 to 2014.  
"There was nowhere to train and no curriculum, so I picked how I would train myself," Mathews says. "I was immersed in what I was doing and I recognized what I needed to learn more about."  
Seeking inspiration for a new model of care, initially Mathews set her sights on human medicine. She went to The Hospital for Sick Children (SickKids) in Toronto and in observing critical care in human patients, Mathews was able to learn techniques that could be applied to improve patient comfort in her own ICU for veterinary patients back home. For more practical knowledge in veterinary emergency and critical care, Mathews spent two weeks at a specialty clinic in the United States. Through a serendipitous turn of events, she met Dr. Clive Davis, hospital intensivist (human term for criticalist) at Hamilton General Hospital. "His mentorship was the path to my success in board certification," says Mathews.  
"When I'm talking to students about their future, I often think about where I was after my post doc, with no specific plans for what would happen next," says Mathews. "It was at that point in my career that Dr. McDonell asked if I would consider supervising the final year students in the ICU. While knowing very little about critical care medicine, I accepted this temporary position while pursuing future plans. Based on my career outcome, I believe you should always consider what's offered, because it might be just what you want. Believe in serendipity."  
Writing The Book On Critical Care 
Mathews remained a faculty of one, and the only 'point-of-care' resource for OVC students or technicians were her typed notes. She says it was the 2 a.m. phone calls that prompted her to begin writing.  
"Interns and residents from other services were working rotations in the emergency department, and there were a lot of basics to cover—especially in the middle of the night," says Mathews. "With each call for the non-emergent situation, I found I was answering many of the same questions about things like managing pain, the patient's blood pressure or fluid requirements, so I started telling them to access my notes, to treat the patient appropriately, and then phone me if they needed help."  
Today, Mathews' notes form the basis of the quintessential textbook she authored, The Veterinary Emergency + Critical Care Manual that is now in its third edition and used by veterinarians around the world.  
Teamwork and collaboration were key components for Mathews in building the critical care service.  
"In the early days of building the ICU, I was very grateful to have my veterinary technicians beside me as we learned about the specialty and built the service together," says Mathews. "After I became a certified specialist in our field, the technicians followed with acquiring theirs, with the designation of VTS (ECC), or Veterinary Technician Specialty Emergency and Critical Care certification. Their support was invaluable then, as it remains today." 
With her board certification in 1993, Dr. Karol Mathews had the credentials to develop the emergency and critical care specialty at OVC – another first in Canada. To date, 19 residents have become board-certified through the program and continue to work in the field from coast to coast in Canada, in Europe and in the United States. 
One Of The Largest Emergency And Critical Care Programs In North America 
Dr. Shane Bateman 
OVC DVSc 1997, Ohio State 1998-2008, OVC Department of Clinical Studies, Emergency and Critical Care  
When Dr. Shane Bateman became the first graduate of OVC's emergency and critical care residency program, the field was so new that were no jobs for him in Canada. So Bateman looked south and became the first faculty member in emergency and critical care at The Ohio State University.  
"In those early days, it was just me and two technicians, with students managing complicated cases after hours and on weekends," Bateman says. "Today it is one of the largest emergency and critical care programs in North America. It was quite a ride to be part of that growth."  
Bateman spent 10 years at Ohio State with the first seven years as a solo faculty member. As the program expanded, it incorporated five faculty members, and a significantly expanded caseload. Bateman returned to Guelph in 2009 and eventually rejoined OVC, where today he is a member of OVC's Emergency and Critical Care (ECC) Service.  
"Karol was a tough and brilliant teacher who really carved a legacy for this college and for the University in general," Bateman says. "Her residents have all gone on to do remarkable things and enjoy interesting careers."  
Building On OVC's Critical Care Legacy 
Dr. Alexa Bersenas 
OVC Emergency and Critical Care Residency 2004, OVC MSc 2005, OVC Department of Clinical Studies, Emergency and Critical Care  
Dr. Alexa Bersenas has been a faculty member at OVC since 2004, and when she graduated from the emergency and critical care residency, she began fielding job offers. The quality of the program and the camaraderie kept her home.  
"Everything about me felt ready to leave Guelph, but I just didn't want to leave the academic environment at OVC," says Bersenas.  
As the program and the ICU continued to grow, Bersenas worked alongside Dr. Karol Mathews. When Mathews retired in 2009, Bersenas continued to run the residency and the ICU. Today, Dr. Bersenas co-supervises four residents with ECC faculty Drs. Xiu Ting Yiew, OVC DVSc 2019, and Shane Bateman.  
"I really enjoy teaching students, and I take a lot of joy when they suddenly understand something and they're comfortable to apply it," says Bersenas. "We get to save lives and teach people, and we hope to be successful in both of those endeavours." 
Reaching The Corners Of The West Coast 
Dr. Teresa Cheng 
OVC Emergency and Critical Care Residency 2007, OVC MSc 2008, Canada West Veterinary Specialists & Critical Care Hospital, Vancouver, British Columbia  
When Dr. Teresa Cheng enrolled in the critical care residency at OVC, she was drawn by the opportunity to train in Canada. "And Karol's name and her book were everywhere — it was such a wonderful opportunity to train with her," says Cheng.  
Cheng was the second board-certified critical care specialist to work in her home province of British Columbia. Today, she works alongside five criticalists and two residents at a single practice, Canada West Veterinary Specialists.  
"Karol has an incredible eye, and she really underlined the importance of attention to detail," says Cheng. "She also highlighted for us the importance of the entire veterinary team."  
Cheng says she carries lessons with her about the strength of Registered Veterinary Technicians, and how important it is to train and respect their work and work side-by-side with them.  
"In critical care we see some devastating cases, and we can't win them all," says Cheng. "But the ones we do win? It's incredible to reunite a pet with their family, and that is only possible thanks to the skills I learned in a very strong program, and advancement of this particular field."  
Toronto's First Critical Care Specialist 
Dr. Dawn Crandell 
OVC DVSc 2004, Veterinary Emergency Clinic Toronto 2004-2018, Toronto Animal Health Partners Emergency and Specialty Hospital, 2018-present  
As the first critical care specialist to practice in Toronto, one of Dr. Dawn Crandell's toughest challenges was making a place for herself at an emergency referral hospital.  
"At that time, the profession and the number of specialists were very small, and it was not common for hospitals to have critical care specialists on wards," Crandell says. "The other specialists didn't really know what to do with us."  
Crandell was motivated to pursue the residency program at OVC after working in an emergency practice for a few years. "I discovered I liked emergency medicine when I was in a hospital that was equipped to deal with emergencies, and I wanted to be better at what I was doing."  
Crandell says when she began working as a critical care specialist, it was an opportunity to make her own job description and prove to other specialists that she was there to help.  
"As critical care specialists, we work with the sickest of the sick, and it's important to look after a lot of the fine details a pet needs when they are very ill so other specialists can do their work," says Crandell. "I think as the specialty continues to grow, it's easier for others to understand how we fit in to emergency medicine."  
Elevating Critical Care Skills Across Canada 
Dr. Michael Ethier 
OVC DVSc 2008, Toronto Veterinary Emergency and Referral Hospital, 2008 to present, CE Veterinary 2018 to present  
When Dr. Michael Ethier decided to pursue specialized training in emergency and critical care, he was drawn to the program Mathews had built at OVC.  
"The OVC program—and Dr. Mathews' reputation—were among the best in North America. The program's highly challenging caseload supported by a strong foundation of courses in physiology and pathophysiology were very appealing," he notes.  
All prior residents had successfully passed their board exams on the first attempt, Ethier notes, which was a testament to the quality of the program. He continued the trend in 2008.  
Upon graduation, Ethier was recruited as a partner in the Toronto Veterinary Emergency and Referral Hospital. Over his 10-year tenure as medical director of Emergency and Critical Care Medicine, he grew the service from one critical care specialist and four emergency veterinarians to the current roster of five specialists and more than 10 emergency DVMs.  
Today, he provides training, clinical and consultation services for general, emergency and referral specialty hospitals across Canada.  
"Not only did my training give me the foundation of knowledge and experience to be a skilled clinician, it also provided me with the tools to train other veterinarians, allowing me to transfer my knowledge to emergency veterinarians and technicians in the hopes of improving the level of care provided by the ER team."  
North America's Only French Language Residency 
Dr. Elizabeth O'Toole 
OVC DVSc 2000, Specialty Hospital in Calgary 2001-2003, Ohio State 2003- 2006, Mississauga Oakville 2006-2008, Université de Montréal 2013-present  
For Dr. Elizabeth O'Toole, what stands out about her time in OVC's Emergency & Critical Care residency program is the respect OVC received on the world stage.  
"I remember going to the U.S. to present research and feeling intimidated at first because we were the only Canadian school represented," says O'Toole. "But our quality of research was always well recognized, and we got a sense of how advanced our ICU really was."  
Today, O'Toole is a Veterinary Emergency and Critical Care Specialist at Université de Montréal, North America's only French-language veterinary school. O'Toole has spent the past nine years working with colleagues to develop her school's intensive care unit (ICU). She notes that during the pandemic shutdowns, Université de Montréal's Emergency and Critical Care Service was the only service open at the veterinary school and only one of four veterinary ICUs in the province for four to eight weeks.  
"Students in our veterinary school love the hands-on experience they receive in our rotation, and we're providing an important service for patients," says O'Toole.  
Today she works with residents and interns on rotation with three critical care specialists—and the specialty continues to expand.  
"Karol was the heart of OVC's ICU, and the success of this specialty really comes down to her," says O'Toole. "She put OVC on the map." 
Originally published in the Fall 2022 issue of The Crest, the research, teaching and health care magazine of the Ontario Veterinary College. 
← Read more news