Intranet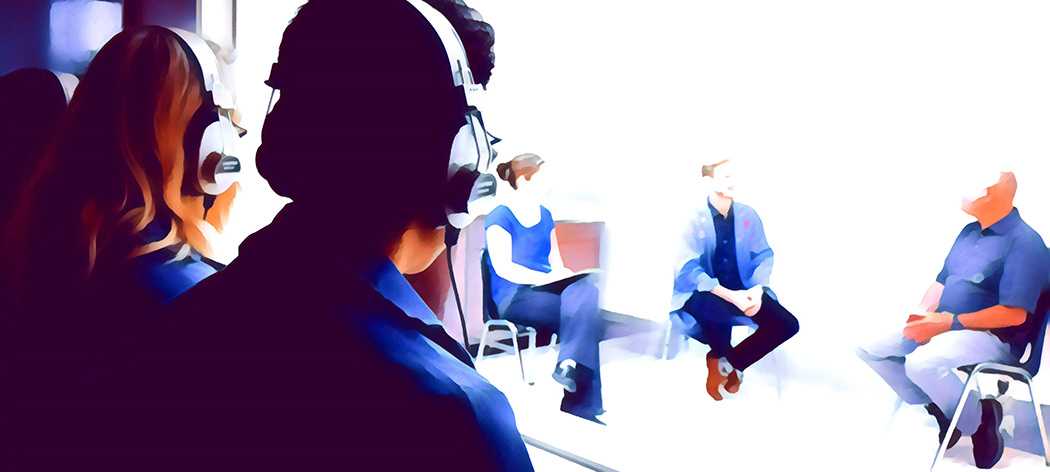 Building The Clinical Communication Skill Set
May 02, 2022
A new state-of-the art facility, which opened to students in fall 2020, will further enhance the approach to hands-on, experiential learning and commitment to innovative training programs at the University of Guelph's Ontario Veterinary College (OVC).
The new Enhanced Clinical Skills Addition provides students with access to a dedicated clinical skills space, new communications teaching labs, and flexible teaching space for adaptive approaches to learning.
The clinical skills space will also provide students with the opportunity to access a library of clinical models to improve their capability outside of class hours, if they wish, further enhancing OVC's student-centered approach.
Communication touches every aspect of veterinary medicine from client to team interactions. Just as technical skills are honed by repeated practice, continual refinement of clinical communication skills is a critical component in building the student veterinarian's skill set.
Clinical communications has been a core component of the DVM curriculum at the University of Guelph's Ontario Veterinary College's (OVC) since 2000. Student veterinarians focus on communication skills scaffolded across each year of the program, through training that involves simulated interactions with clients.
"Our communications program is a strength of the college and our students have excellent opportunities for training and practicing their skills in this area," says Dr. Joanne Hewson, Associate Dean, Students and Academic.
---
Clinical communications has been a core component of the DVM curriculum at the 
University of Guelph's Ontario Veterinary College's (OVC) since 2000.
---
OVC was the first veterinary school in North America to include clinical communication as a core competency across all four years of the DVM curriculum, says Dr. Jason Coe, a professor in the Department of Population Medicine and coordinator for the clinical communication curriculum. A leading expert in veterinary clinical communication, Coe has established an active research program examining human-animal relationships as well as the role of interpersonal communications on the outcomes of veterinary care.
Student veterinarians gradually expand their communications tool kit over the four-year DVM program. The first year focuses on increasing their awareness of communication as a clinical skill set, including lectures introducing different communications skills and strategies, and bringing them into labs for some initial contacts with simulated clients.
Second-year students get into more complex conversations around topics such as the cost of veterinary care, breaking bad news and navigating informed consent, while third-year students delve into more difficult conversations such as end-of-life discussions.
Videos of their simulated client interactions are an important tool for students, allowing them to reflect on things that worked well and areas they might change.
"It really is about setting students up with a foundation of knowledge and then having it modelled and reinforced in different areas of the college," says Coe.
In the new clinical skills facility, the communication labs are structured like exam rooms students would find in practice, "so it's more realistic for them when they're doing their simulated client experiences," says Hewson.
The exam room configuration also provides more touch points for hands-on practice, notes Coe. He plans to take advantage of the proximity to the clinical skills space and incorporate clinical models into the simulated client sessions, giving students an opportunity to work on team communications when completing technical skills during procedures.
While the COVID-19 pandemic pushed the communication curriculum online, it also provided some positive opportunities.
"It created some good opportunities to talk about how we engage virtually with a client," says Coe. "As we go back to whatever becomes the new normal, we want to retain some of what we've been doing from a virtual standpoint, because I imagine in veterinary care there will be more virtual touchpoints post-COVID than there were previously."
One of the strengths of OVC's communications curriculum is an active and formalized research program looking at communication in veterinary practice. "We are able to introduce research evidence before publication on things we can incorporate into our engagement with clients and better understand how that influences the trajectory of the interaction with both the client and patient," says Coe.
Coe, who was recently named the VCA Canada Chair in Relationship-Centred Veterinary Medicine, plans to further explore ways to support long-term relationship-building among clients and veterinary team members, and how to incorporate new research into practice and teaching.
Adds Coe, "Our focus is to support students with transferable skills, whether they are using those communication tools in a veterinary-client interaction or applying them to communications within their veterinary team."
Originally published in the Fall 2021 issue of The Crest, the research, teaching and health care magazine of the Ontario Veterinary College.
← Read more news