OVC Home
About
Learn
Research
Hospital
Alumni
Give
Intranet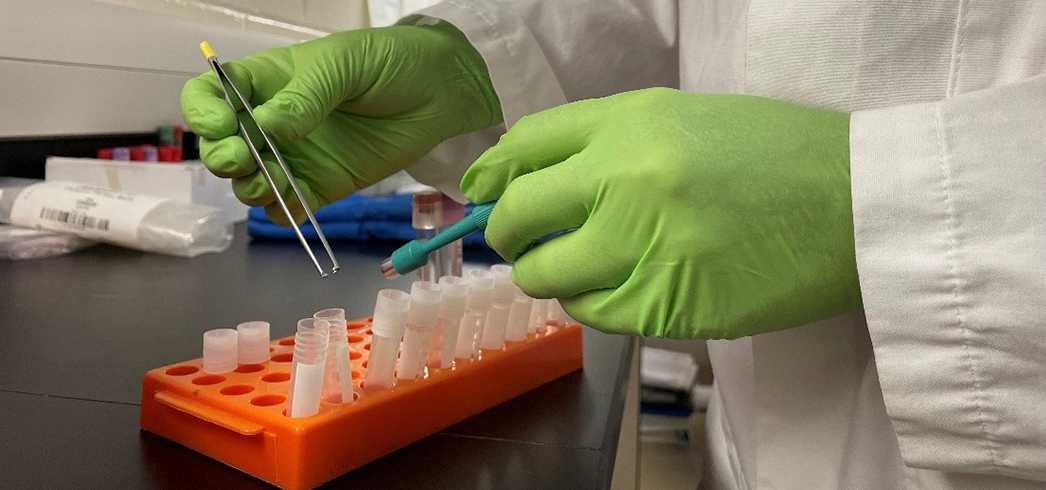 OVC Cancer Research Advances Care For Pets And People
December 12, 2021
(In photo: Companion Animal Tumour Sample Bank coordinator Deirdre Stuart processing and freezing a tumour sample.)
In a follow-up to Pet Cancer Awareness Month, we are highlighting Q&A sessions with some lead investigators on ongoing clinical studies at the Ontario Veterinary College at the University of Guelph. Here, Dr. Geoff Wood, cancer researcher in OVC's Department of Pathobiology and co-director of the Institute for Comparative Cancer Investigation (ICCI), discusses the Companion Animal Tumour Sample Bank.
Why is pet cancer research important to you and why did you choose to focus in this area?
I have been interested in cancer research since veterinary school. When I worked in clinical practice, I saw many animals with cancer and relatively few options for treatment. I completed my PhD (University of Toronto) and my DVSc (University of Guelph) in cancer research, mostly related to human cancer and rodent models. From my veterinary training I could see that, in many ways, human and pet cancers were more similar to each other than to rodent models. Studying veterinary and human cancers at the same time and comparing cancers across species presents an opportunity for discoveries to benefit both humans and pets.
What is the Companion Animal Tumour Sample Bank (CATSB)?
The CATSB is an archive of samples from dogs and cats with various types of naturally-occurring tumours. This includes not just frozen samples of the tumours themselves, but also blood samples and urine samples. Often, tumours are surgically removed, so freezing a small piece is easily done and doesn't interfere with diagnostics.
Samples can then be withdrawn from the bank to inform studies on companion animal cancer. Importantly, because samples were obtained during veterinary treatment, there is extensive clinical data linked to each sample. This allows us to study novel therapeutic targets (molecules in a tumour that could be targeted by new therapies) as well as factors that may better predict response to treatment. More than 99 per cent of owners consent to having samples from their pets banked, so there is great enthusiasm and support for this initiative from pet owners.
What is the Institute for Comparative Cancer Investigation and how is the ICCI related to the CATSB?
The ICCI helps facilitate translational cancer studies involving companion animals with naturally-occurring cancers at the University of Guelph, as well as with our local, regional and international collaborators. This involves managing clinical trials at the OVC Mona Campbell Centre for Animal Cancer, as well as running the CATSB. The ICCI combines the expertise of researchers in basic cancer biology and clinicians in veterinary medicine to take an integrated approach to cancer investigation. Research ranges from lab-based molecular work through to clinical trials of new cancer diagnostics and therapies. The ICCI also helps researchers work across species, including humans, to advance our understanding of cancer in general. Since 2008, the ICCI has also run an annual Cancer Research Symposium highlighting advances made by University of Guelph researchers and fostering collaborations with other institutions.
What is your role with the CATSB?
Dr. Michelle Oblak, veterinary surgical oncologist and professor in OVC's Department of Clinical Studies, and I are co-directors of the ICCI. We help Dr. Vicky Sabine, our Clinical Research Coordinator, and Deirdre Stuart,  our CATSB Coordinator who recently completed her MSc in OVC's Department of Biomedical Sciences (on right beside a CATSB freezer), to run clinical trials and collect tumour bank samples. We are also responsible for organizing the annual Cancer Research Symposium.
Why is there a need for pet cancer resources like CATSB?
Advances in cancer research made in the lab need to be moved into clinical practice, often referred to as going "from bench to bedside", or in our case, "from bench to kennel-side". In order to do this, we need to have tumour samples of the same type as those a new therapy is meant to work on. Accumulating samples over many years means that when a new discovery is made, researchers can test a large number of cancer samples all at once.
The ability to investigate past samples would allow for retrospective analysis of cancer cases. What is a retrospective study and how might this inform our understanding of pet cancer?
A retrospective study uses samples collected in the past to, for example, look for a protein that is the target of a new therapy. Before such a therapy could begin a clinical trial, we would need to know if that target protein is present in the pet tumours. Using the CATSB, we can withdraw many banked samples all at once to accomplish this. In contrast, for a prospective trial, we would have to wait years until enough cases of the right tumour type come through the clinic.
How does the CATSB benefit the field of veterinary medicine? What about human medicine?
CATSB samples have aided in dozens of pet cancer investigations. We have collected samples from more than 1,000 cases and have made cancer cell lines (live cells that continue dividing and growing) for use in cell culture experiments, cancer biology studies and the discovery of new treatments, from 40 different cases. Samples have been shared with academic and industry partners across Canada as well as internationally.
An important double-benefit is that the bank allows us to make comparisons between animal and human cancers. There are several cancer types that are more common in pets than in humans, which makes the bank a valuable resource. We have contributed to research that compared mucosal (non-skin) melanoma (cancer of pigment producing cells that are inside the body) across dogs, horses and humans; hemangiosarcoma (called angiosarcoma in humans, a rare cancer of the inner lining of blood vessels) in dogs, cats and humans; and osteosarcoma (bone cancer) in dogs and humans.
Cancers contain thousands of DNA mutations, most of which are not important in helping the cancer grow. Finding mutations that are common across multiple species in the same cancer type helps to narrow down the most biologically relevant mutations, for example, which are the most important for cancer growth. Ultimately, we hope these findings will help us develop targeted treatments that will slow or stop cancer growth.
How can owners of a companion animal with a confirmed diagnosis of cancer and the presence of a tumour contribute to the CATSB?
When a suitable case is identified at OVC's Mona Campbell Centre for Animal Cancer, the CATSB Coordinator or an associate will contact the owner to see if they are interested in donating to the tumour bank and obtain their informed consent. We do not collect tumours if they are very small, as all removed tissue will be used entirely for diagnosis of the pet's case. Time conflicts and other restrictions mean not all tumours are collected. Because the samples must be processed and frozen immediately, we can only collect from cases at OVC currently, but we are looking to expand collection to other cancer referral animal hospitals as well.
Who is currently funding this research?
The CATSB is currently funded by generous contributions from  OVC Pet Trust and the Smiling Blue Skies Cancer Fund. When researchers request samples from the CATSB, we only charge for processing and handling. While this does generate a small amount of cost recovery, this bank is really a service we provide to cancer researchers and we could not keep going without our funders.
← Read more news